Dean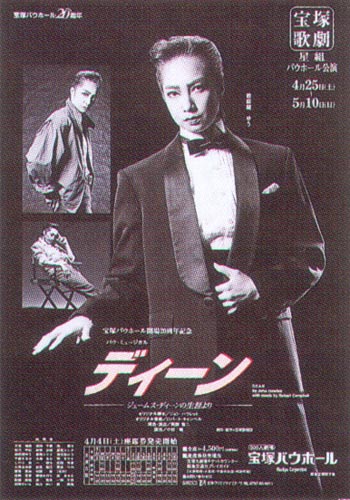 Picture Credit: Caithion
English Title:
Dean
Japanese Title:
ディーン
Romanized Title:
Diin
Troupe:
Star
Year:
1998
Performances:
Bow Hall, 4/25 - 5/10; Nippon Seinenkan Hall, 8/25 - 9/2
Based On:
The Life of James Dean
Original Author:
John Howlett
Original Composer:
Robert Campbell
Adaptor/Director:
Okada Keiji
Director:
Nakamura Satoru
Composer:
Yoshizaki Kenji
Choreographer:
Hayama Kiyomi
Translator:
Okada Shou
Available on DVD:
VHS only
Other Cast:
Hanasaki Rika
,
Miki Chigusa
,
Ayase Saki
,
Minase Ao
,
Kazu Yuuto
,
Hatsuki Kanade
,
Yumesaki Minori
,
Marino Yui
,
Mine Keito
,
Hoshikaze Erena
,
Aozora Yahiro
,
Koto Marie
,
Takuma Saki
,
Haoto Rino
WARNING!! MAY CONTAIN SPOILERS!!
The life of James Dean from the time he moved out to Hollywood and began his screen career, until his death. Focus on the directors and cast of his three films, as well as the love of his life. First Dean is a New York City stage actor, chosen to go to Hollywood to star in the film East of Eden. His role as Cal parallels his relationship with his own father, and Dean empathizes with the role strongly. Cue angst. Dean's manager tries to convince the entertainment writer, Hedda Hopper, to help give Dean good press to make him a star, but Dean's sullen nature and unwillingness to bow and scrape got them off to a bad start and she leaves in a huff. Nevertheless, the film is a huge success. Meanwhile, Dean has met another actress, Pier Angeli, and fallen completely in love with her. Her mother disapproves of their affair, because Dean is not a Catholic, and convinces Pier to marry Vic Damone instead.
After this Dean decides to take a break from film, but director Nicholas Ray convinces him to return to LA to work on Rebel Without a Cause. After that, his last film is the western, Giant. Shortly after they finish filming the movie, the fatal crash occurs.
Ekusudei's
| | | | |
| --- | --- | --- | --- |
| Poster | DVD | VHS | CD |
| None Yet | None Yet | | None Yet |