Christmas Story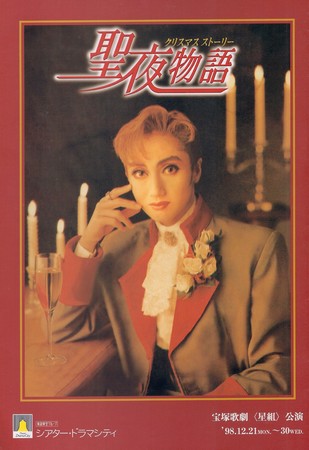 Picture Credit: carmila
English Title:
Christmas Story
Japanese Title:
聖夜物語
Romanized Title:
Seiya Monogatari
Troupe:
Star
Year:
1998
Performances:
Theater Drama City, 12/21 - 12/30
Based On:
Author/Director:
Kusano Akira
Composer:
Takahashi Kuni
Choreographer:
Hayama Kiyomi
,
Shou Sumire
,
Iga Yuuko
,
Wakao Risa
Available on DVD:
VHS only
Other Cast:
Shouno Saki
,
Shinobu Murasaki
,
Hara Miteki
,
Riri Seira
,
Azusa Marin
,
Masumi Urara
,
Yukiji Kaho
,
Yoshino Kyouka
,
Tsubaki Hiroka
,
Suzumi Shio
,
Marino Yui
,
Mine Keito
,
Hoshikaze Erena
,
Koto Marie
,
Yuuho Satoru
,
Haoto Rino
WARNING!! MAY CONTAIN SPOILERS!!
The angel Toto has the job of bringing the souls of the dead to the way-point on their way to Heaven.
It's the winter of 1937, in Memphis, Tennessee. A dispute unfolds between the Delivery family and the Antonioni family. The boss of the Delivery family, Dave, is shot and killed, and secretly sunk into a water fountain.
At about that time, a Christmas show is being rehearsed at St. Michaels Church. The leader is Frank Fellow, a devout Christian. He is a steady elementary school teacher, but along with his friend Alfat, has always dreamed of standing on a Broadway stage. At that moment, a large earthquake strikes unexpectedly. When he regains consciousness, Frank (who had been carried by the Angel Toto) is riding the train bound for heaven, with only his harmonica in his hand.
When he learns that this is the way-station to heaven, Frank is surprised. He resists, and eventually the Arch-Angel Gabriel arrives. When he looks into things to reconfirm, the fact that a mistake has been made is brought to light. They would like to return Frank's soul to his body, but too much time has gone by and it's been cremated. Toto accepts the blame for the angry Frank, who could possess an unidentified dead body, if there is one — So Toto has until Christmas to find a body, and takes Frank back down to earth.
As the focal point of the large earthquake, Memphis has been devastated. Frank's funeral service is being held at a church, and his mother and younger sister Maria and grieving. Alfat, whose mother has died, is comforting them. He is thoroughly attracted to Maria, but Toto also has fallen in love with her.
On the other side of town, the Delivery family receives a call telling them that their boss Dave has been murdered, and his henchmen Big, Santa, and Joy are upset. But no one has seen his dead body. Toto, who has seen that situation, is overjoyed to find the unidentified dead body, but Frank hates the mafia and is prim about it. Just then Susan Snow, a teacher at James Orphanage, which has been burnt out in a fire, comes along. Frank falls in love with Susan at first sight. In order to save her from the henchmen who begin picking a fight with her, Frank borrows Dave's body for an hour......
None yet.
| | | | |
| --- | --- | --- | --- |
| Poster | DVD | VHS | CD |
| None Yet | None Yet | | None Yet |