Casanova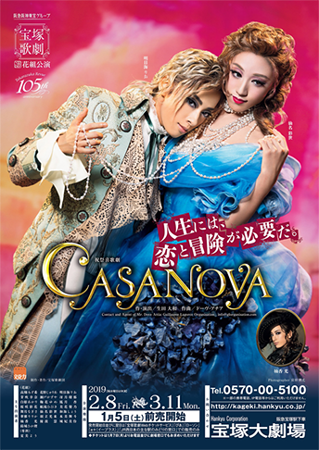 Picture Credit: coeuraubonheur | Official Chirashi
English Title:
Casanova
Japanese Title:
Casanova
Troupe:
Flower
Year:
2019
Performances:
Takarazuka Grand Theater, 02/08 - 03/11; Tokyo Takarazuka Theater, 03/29 - 04/28
Shinjin Kouen Performances:
Takarazuka Grand Theater, 02/26; Tokyo Takarazuka Theater, 04/11
Based On:
the life of Giacomo Casanova
Author / Director:
Ikuta Hirokazu
Composer:
Dove Attia,
Oota Takeshi
,
Aoki Tomoko
Choreographer:
Miori Yumino
,
Sakuragi Ryousuke
,
AYAKO
,
Hasegawa Tatsuya
Conductor (Takarazuka):
Oota Takeshi
Conductor (Tokyo):
Shinjin Kouen Director:
Sashida Shuko
Available on DVD:
Yes (
release date 04/26/19
)
Available on Blu-Ray:
Yes (
release date 04/26/19
)
DVD Scene/Music Cuts:
No
Role
Cast
Shinko Cast
Giacomo Casanova, a matchless playboy
Asumi Rio
Hozumi Mahiro
Beatrice, Foscarini's daughter and heir
Senna Ayase
Hana Yuuki
Antonio Condulmer di Pietro, head inquisitor for political offenses
Yuzuka Rei
Seino Asuka
Count Michele, a count concealing his identity
Natsumi You
Ichinose Kouki
Foscarini, viceroy of Venice
Takashou Mizuki
Takamine Jun
Lady Solce, one of Casanova's lovers; Antonio Condulmer's former lover
Hanano Juria
Itotsuki Yukiha
Sylvia Valecci, proprietress of the Casino di Venice
Mebuki Yukina
Wakakusa Moeka
Constantino, a rich man of the upper class
Seto Kazuya
Izumi Maira
Grimani, senior member of the Council of Ten
Saezuki Runa
Tatsuki Mio
Luna, Lady Condulmer's faithful servant
Shiraki Akari
Rinno Shizuka
Camilla, court lady
Marika Yume
Suzumina Natsuki
Lady Condulmer, Antonio Condulmer's wife; interested in black magic
Houzuki An
Maisora Hitomi
Daniela, Beatrice's lady-in-waiting
Ousaki Ayaka
Oto Kurisu
Sir Bragadino, member of the Council of Ten; Casanova's co-conspirator
Wataru Hibiki
Haruya Yuuri
Miranda, court lady
Mihana Rino
Ouzuki Noa
Diedo, member of the Council of Ten
Maizuki Nagisa
Ryouka Kina
Jean Baptiste Mannucci, inquisitor for political offenses
Kazumi Shou
Serina Ei
Paccina, cortigiana honesta
Kaga Ririka
Rinka Mone
Momoro, gondolier
Haryuu Mitsuki
Naoto Akira
Father Marino Barbi, prisoner
Minami Maito
Mano Kazuma
Marte, Lady Condulmer's faithful servant
Mahou Tsugumi
Miku Rinka
Mercurio, Lady Condulmer's faithful servant
Otohane Emi
Futaba Yuyu
Balbo Tomasi, inquisitor for political offenses
Yuunami Kei
Taou Shun
Giove, Lady Condulmer's faithful servant
Sarasa Nachi
Aira Miko
da Mura, member of the Council of Ten
Chiyuki Aki
Rio Hikaru
Henriette, a beautiful woman who dresses as a man
Shiroki Mirei
Sakino Mion
Puccina, cortigiana honesta
Haruhi Urara
Shiki Sumire
Lorenzo, prison guard
Kureha Maki
Kazu Reisa
Roberto
Kureha Maki
Amashiro Rein
Monica, court lady
Hina Ririka
Kotomi Kurara
Mozart, composer whom the viceroy has requested to write an opera
Ayaki Hikari
Kinami Raito
Sagredo, member of the Council of Ten
Aomiya Ruka
Kaito Asahi
Balsamo, a fake alchemist
Hiryuu Tsukasa
Tsubasa Anju
Barbarigo, member of the Council of Ten
Mineka Towa
Hayami Shiosa
Bettina, cortigiana honesta
Marei Sayana
-
Alviso, member of the Council of Ten
Sumizuki Naoto
Aoki Tsukasa
Antonio Valecci, Sylvia's son; Manon's older brother
Hozumi Mahiro
Ryouha Mare
Venera, Lady Condulmer's faithful servant
Oto Kurisu
Miyahime Koko
Count Medini, a fraud and a gambler
Seino Asuka
Yuki Daiya
Serafina, Balsamo's wife
Hana Yuuki
Asanoha Kotono
Saturno, Lady Condulmer's faithful servant
Sakino Mion
Misato Reina
Manon Valecci, Sylvia's daughter; Antonio Valecci's younger sister
Maisora Hitomi
Mihane Ai
Other Cast:
Hakuto Seira
,
Reiya Rion
WARNING!! MAY CONTAIN SPOILERS!!
(From the official Takarazuka Revue web site)
 During the 18th century, at the height of Rococo culture, Giacomo Casanova charmed the ladies and enjoyed his earthly affairs as he traveled across Europe. Set in Venice, the city of water against the Adriatic Sea, a new story of adventure unfolds for Casanova, who dreamed of freedom and longed for true love.
 Commanding the affection of womankind, Casanova's myriad of scandals has caused him to be prosecuted and shackled by the Venice Political Offense Inquest Office for the crime of sorcery for fraud and womanizing. However, Casanova in pursuit of love and adventure, maps out an intricate plan and finally breaks out of prison. As Casanova tries to flee from Venice under cover of the chaos of the carnival, it is revealed to him by the hand of God that he will encounter life-changing love on his way to Milano.
 The love of his life, his femme fatale, was Beatrice, the niece of the governor of Venice. Having completed her studies at a convent, book-loving Beatrice was a progressive woman who was hesitant to lead the preordained life of a girl born into the aristocracy. Highly conscientious, Beatrice harbored hostility against the scandalous Casanova until she met him without knowing that he was Casanova and became attracted to his free spirit.
 At the same time, investigator Condulmer of the Political Offense Inquest Office pursues the fugitive Casanova tirelessly. Though his love was stolen by Casanova, he has other reasons for his avid pursuit...
 "Life needs love and adventure"—bound by nothing but himself, where does Casanova find an end to his journey of love for women and freedom?
None yet.
| | | | |
| --- | --- | --- | --- |
| Poster | DVD | VHS | CD |
| None Yet | None Yet | None Yet | None Yet |