ALL FOR ONE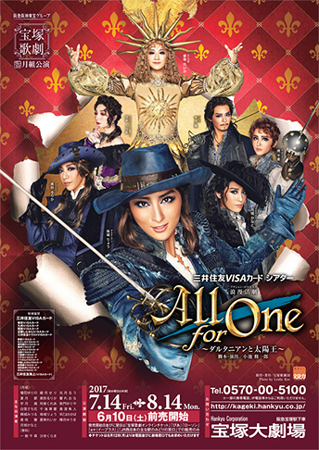 Picture Credit: coeuraubonheur | Official Chirashi
English Title:
ALL FOR ONE ~d'Artagnan and the Sun King~
Japanese Title:
『ALL FOR ONE』~ダルタニアンと太陽王~
Romanized Title:
All FOR ONE ~Darutanian to Taiyouou~
Troupe:
Moon
Year:
2017
Performances:
Takarazuka Grand Theater, 07/14 - 08/14; Tokyo Takarazuka Theater, 09/01 - 10/08
Shinjin Kouen Performances:
Takarazuka Grand Theater, 08/01; Tokyo Takarazuka Theater, 09/14
Based On:
Alexander Dumas's "The Three Musketeers"
Author/Director:
Koike Shuuichirou
Composer:
Oota Takeshi
,
Kuratomi Shinichi
,
Oonuki Yuuichirou
Choreographer:
Miori Yumino
,
Wakao Risa
,
Sakuragi Ryousuke
,
KAORIalive
,
Suzukake Miyuki
Conductor (Takarazuka):
Sasada Aiichirou
Conductor (Tokyo):
Shinjin Kouen Director:
Sashida Shuko
Available on Blu-Ray:
Yes (
release date 09/28/2017
)
Available on DVD:
Yes (
release date 09/28/2017
)
DVD Scene/Music Cuts:
None
† Announced 7/8/2017
Remi Kurea
will be out for the entire Takarazuka run do to injury. The role of Isabella will be taken over by
Kousaki Ran
Other Cast:
Kousaki Ran
,
Yuu Hikaru
,
Samomo Satsuki
,
Akane Konatsu
,
Sakurana Ai
,
Hayaki Yuuto
,
Souya Tomoki
,
Shizaki Reno
,
Yui Karen
,
Reika Haru
,
Yoshino Yurika
,
Ookusu Tera
,
Maya Yutaka
,
Ayaji Yurika
,
Shirakawa Riri
,
Ruou Ria
,
Sou Yuuki
,
Manoa Mio
,
Amano Kaguya
,
Mariya Sonata
WARNING!! MAY CONTAIN SPOILERS!!
ALL FOR ONE ~d'Artagnan and the Sun King~
(summary from
official TR site
)
It is 17th-century France, where Louis XIV, the "Sun King," reigns. The Musketeers, who answer to the king, diligently train themselves day in and day out to protect their liege and the state. Each of these highly skilled warriors also has a unique personality: Porthos is courageous and daring, Athos is calm and reassuring, Aramis is a ladies' man like none other in his time, while d'Artagnan is our invincible hero. All, meanwhile, are utterly proud and brave warriors.
One day, d'Artagnan receives orders to instruct Louis XIV in the art of fencing. At present, however, the king is fascinated with ballet, and no matter who attempts to coach him, he exerts no effort whatsoever in his fencing lessons. Thus it has come down to d'Artagnan, a particularly gifted swordsman among the Musketeers, to tackle this challenge. One day, d'Artagnan and his royal student have an audience: Cardinal Mazarin, who is attempting to foment discord within the palace; Anne, the king's mother; the Duchess of Montpensier, his cousin; and Bernardo, Mazarin's nephew and the captain of the guard. d'Artagnan and the king agree to have a bout for their onlookers. d'Artagnan attempts to take it easy on the king, who is weak by nature, but the lessons have stirred a fire within d'Artagnan such that he inadvertently defeats the king. Louis XIV is outraged and says to d'Artagnan, "You can resign from the Musketeers, or I shall disband them all for having such an insolent comrade among their ranks!" d'Artagnan is depressed, and that night the Three Musketeers – Aramis, Athos and Porthos – try to cheer him up at a bar frequented by the Musketeers. Guardsmen commanded by Bernardo then enter the establishment. When the Musketeers speak ill of Cardinal Mazarin, chaos breaks out. During the confusion, d'Artagnan happens to save a lass named Louise from getting tangled up in the melee. When she learns of d'Artagnan's audiences with Louis XIV, she inquires about the king, in whom she is deeply interested. Even though they have only first met, d'Artagnan finds his heart stolen by this vivacious woman.
d'Artagnan is eventually summoned again to the palace, where he learns of an incredible secret that will shake the very foundations of the House of Bourbon. d'Artagnan and the Three Musketeers will rise up to bring happiness to Louis XIV and the people of the world, but someone shall stand in their way...
"All for One, One for All"
The Musketeers remember their motto to unite their zeal as they raise their swords.
None yet.
| | | | |
| --- | --- | --- | --- |
| Poster | DVD | VHS | CD |
| None Yet | None Yet | None Yet | None Yet |
-