Yoshitsune and the Fox Spirit: A Cherry Blossom Fantasy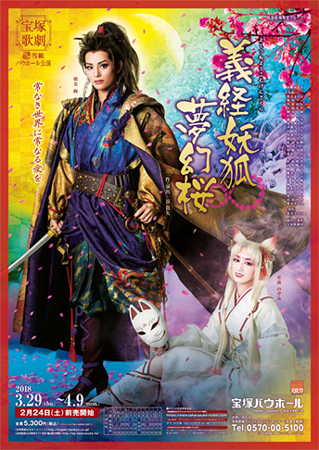 Picture Credit: coeuraubonheur | Official Chirashi
English Title:
Yoshitsune and the Fox Spirit: A Cherry Blossom Fantasy
Japanese Title:
義経妖狐夢幻桜(よしつねようこむげんざくら)
Romanized Title:
Yoshitsune Youko Mugen Zakura
Troupe:
Snow
Year:
2018
Performances:
Bow Hall, 03/29 - 04/09
Author / Director:
Tani Takaya
Composer:
Oota Takeshi
Choreographer:
Wakao Risa
,
Mami
Assistant Director:
Kumakura Asuka
Available on Blu-Ray:
Yes (
release date 07/08/22
)
Available on DVD:
No
DVD Scene/Music Cut:
No
Other Cast:
Seika Rian
,
Shiose Kazami
,
Hiyori Haruma
,
Yumi Serina
,
Asato Mire
,
Mayuzuki Rea
,
Suzuhana Miu
,
Kohaku Reira
,
Hanataba Yume
,
Manaha Ayane
WARNING!! MAY CONTAIN SPOILERS!!
Yoshitsune was once a hero, a genius strategist who defeated the Heike. But his older brother Yoritomo regarded him as dangerous and betrayed him, and now Yoshitsune is on the run. He flees aimlessly until one day, completely lost, he meets a young woman named Tsune who can turn into a fox. He says he will grant the woman one favor if, in exchange, she will lead him and his follower Benkei through the blinding snow to her hidden village. It is a mysterious village which has developed a strange culture. There Yoshitsune and Benkei take a much-needed rest, but when they try to leave, they become lost in the snow. No matter how many times they try, they always end up back at the village. The villagers laugh and say this is Tsune's magic — it gives the village eternal refuge from the world. Meanwhile, Yoritomo is searching for the entrance to the village in order to capture Yoshitsune. Tsune appears before him and invites him to the dreamlike village as well... Will Yoshitsune be able to shake off both his pursuer Yoritomo, and the magic of Tsune, in order to return to the outside world where the cherry blossoms bloom...?
This is a Japanese-style rock fantasy of visions and spirits, where the snow and cherry blossoms entangle and dance.
Any other interesting or important stuff.
None yet.
| | | | |
| --- | --- | --- | --- |
| Poster | DVD | VHS | CD |
| None Yet | None Yet | None Yet | None Yet |