Vampire Succession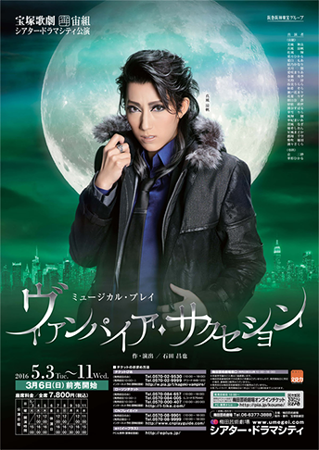 Picture Credit: coeuraubonheur | Official Chirashi
English Title:
Vampire Succession
Japanese Title:
ヴァンパイア・サクセション
Romanized Title:
Vanpaia Sakuseshon
Troupe:
Cosmos
Year:
2016
Performances:
Theater Drama City, 05/03 - 05/11; KAAT Kanagawa Arts Theater, 05/17 - 05/23
Based On:
Author/Director:
Ishida Masaya
Composer:
Teshima Kyouko
Choreographer:
Miori Yumino
Available on Blu-Ray:
Yes (
release date 12/08/2022
)
Available on DVD:
Yes (
release date 08/15/2016
)
DVD Scene/Music Cuts:
No.
Other Cast
:
Aisaki Maria
,
Mirei Jun
,
Hanabishi Rizu
,
Asahina Aoi
,
Rui Makise
,
Junna Subaru
,
Kazaki Shun
,
Hanaki Maia
,
Sumikaze Nagi
,
Yuuki Shion
,
Takato Chiaki
,
Ibuki Yuuha
,
Koko Sakura
WARNING!! MAY CONTAIN SPOILERS!!
This is the story of a vampire who after meeting a girl with a sad past, comes to understand the value of human life and decides to become human. Overturning the serious image of vampires, this vampire is living in the 21st Century, has weaknesses and is relatable. This story will be portrayed in a comedic and heartwarming way.
Alucard, a vampire resurrected in present-day New York, has achieved a "degenerative evolution" over the past 700 years. He no longer attacks people for blood, and is no longer afraid of crosses. He spends his days with his friend, Helsing XVI, a descendant of vampire researchers. Acting as Helsing's ghost writer, he writes a fantasy romance novel about the events he witnessed in his past. One day, Alucard is dressed as a "vampire" at a Halloween costume party celebrating the publication of his book. There, he meets Lucy, a university student who dreams of becoming a dentist. As he gradually becomes more attracted to Lucy, his desire to become human grows. For a vampire with the gift of immortality, it is the equivalent of suicide.
Any other interesting or important stuff.
None yet.
| | | | |
| --- | --- | --- | --- |
| Poster | DVD | VHS | CD |
| None Yet | None Yet | None Yet | None Yet |