The Sun King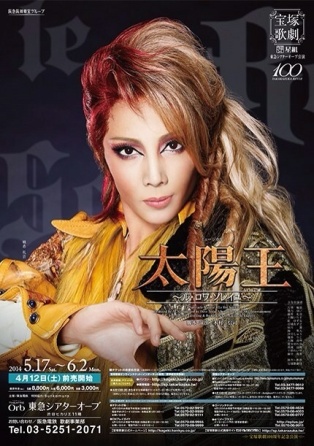 Picture Credit: official chirashi
English Title:
The Sun King ~Le Roi Soleil~
Japanese Title:
太陽王 ~ル・ロワ・ソレイユ~
Romanized Title:
Taiyou-Ou ~Le Roi Soleil~
Troupe:
Star
Year:
2014
Performances:
Tokyu Theater Orb, 05/17 - 06/02
Based On:
The French musical
Le Roi Soleil
Lyrics:
Lionel Florence, Patrice Guirao
Book:
Kamel Ouali
Director:
Kimura Shinji
Composer:
Hasegawa Masahiro
Choreographer:
Hayama Kiyomi
,
Masaki Rino
,
KAZUMI-BOY
Available on DVD:
Yes (
release date 08/08/14
)
DVD Scene/Music Cuts:
No
Other Cast:
Kai Hayato
,
Shiotsuki Shuu
,
Kizaki Reo
,
Yumeshiro Eren
,
Tamahana Yufu
,
Mao Yuuki
,
Sazanami Reira
,
Marina Mayu
,
Hiroka Yuu
,
Murasaki Rira
,
Otosaki Itsuki
,
Shidou Ryuu
,
Gojou Marina
,
Shiratori Yuriya
,
Katori Reira
,
Toudou Jun
,
Ouha Mirai
,
Amahana Ema
,
Aya Ouka
,
Mito Kurara
WARNING!! MAY CONTAIN SPOILERS!!
Plot summary from Wikipedia (
source
).
The play begins with the Fronde against Cardinal Mazarin. Young Louis is the consecrated King at Reims. But his power has been confiscated by his mother, Anne of Austria, and the Cardinal, who doubt his ability to rule France alone.
Louis falls in love with Marie Mancini, an Italian emigrant without noble birth, niece of Cardinal Mazarin. To prove himself as a man, the young monarch decides to leave for the war at the head of his armies, and though Marie has a worrying premonition she is unable to stop him. Louis falls in battle, victim to a serious disease, and for a long time is believed dead. The court forgets him and attempts to name his brother Philippe the new King of France. Marie, however, refuses to accept the fatality and spends many nights by his bedside praying in tears.
Then, in a sudden turn of events, one of the royal doctors administers a drug that wakes Louis from his sleep. He learns that he has been forgotten by everyone in the country except Marie and his own family. Now desperately in love with the beautiful Italian, Louis proposes to her. Marie reminds him that it is impossible for a French King to marry an Italian without birth. Anne of Austria, Mazarin and even the Pope would object.
Louis stubbornly dismisses all opposition, deciding that he is King and will therefore decide his own future. Nevertheless, Anne of Austria and Mazarin put an end to the dream by banishing Marie into exile and persuading the young King to marry the Spanish princess. The first act ends with the pain of separation.
The second Act begins with the death of Mazarin, upon which Louis seizes power and becomes the Sun King. He loses himself in the arms of many women, forgetting that his people will pay heavy taxes for the construction of an excessive dream- the Château de Versailles.
After many events such as the matter of the Man in the Iron Mask and the Poison Affair, Louis attains what he could not achieve with Marie Mancini. He marries, despite opposition, Françoise d'Aubigné, Marquise de Maintenon, a woman without birth who was the governess of his illegitimate children with Françoise-Athénaïs, marquise de Montespan.
None yet.
| | | | |
| --- | --- | --- | --- |
| Poster | DVD | VHS | CD |
| None Yet | None Yet | None Yet | None Yet |