The Prince of Lan Ling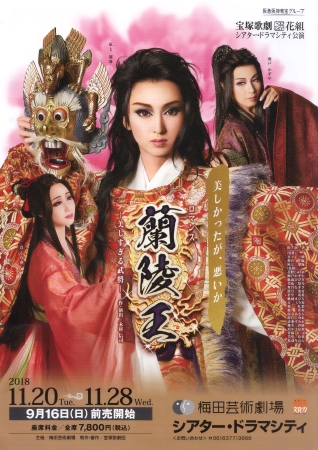 Picture Credit: Zaraphena | official chirashi
English Title:
The Prince of Lan Ling -The General Who Was Too Beautiful-
Japanese Title:
蘭陵王(らんりょうおう)—美しすぎる武将—
Romanized Title:
Ranryouou -Utsukushisugiru Bushou-
Troupe:
Senka / Flower
Year:
2018
Performances:
Theater Drama City, 11/20 - 11/28; Kanagawa Arts Theater, 12/04 - 12/10
Based On:
the life of Gāo Chánggōng, the Prince of Lan Ling
Author / Director:
Kimura Shinji
Composer:
Hasegawa Masahiro
, Tougi Hideki, Haginomori Hideaki
Choreographer:
Hanayagi Juraku
,
Masaki Rino
Available on DVD:
No
Available on Blu-Ray:
No
DVD Scene/Music Cuts:
n/a
Other Cast:
Aoki Tsukasa
,
Reiya Rion
WARNING!! MAY CONTAIN SPOILERS!!
The Prince of Lan Ling, or Gāo Chánggōng, lived in the 6th century and was a historical member of the imperial family of Northern Qi in China. He was a general whose name has survived through history due to his incomparable beauty. Due to his concerns that his extreme beauty might damage the morale of his soldiers, he wears a mask into battle — this became the subject of the Gagaku (Japanese imperial court dance) 'Ryou-ou', as well as many Chinese opera performances. This production focuses on the the mysterious life of its protagonist, the Prince of Lan Ling, the turbulent life of a general who possessed not only beauty, but great virtue and courage, and his romance with a woman who he first encountered when she tried to assassinate him.
Any other interesting or important stuff.
None yet.
| | | | |
| --- | --- | --- | --- |
| Poster | DVD | VHS | CD |
| None Yet | None Yet | None Yet | None Yet |