The Microcosmic War of Dejima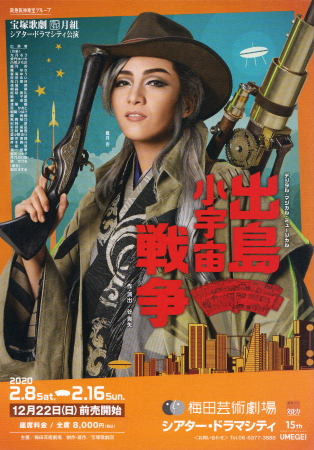 Picture Credit: zaraphena / Official Chirashi
English Title:
The Microcosmic War of Dejima
Japanese Title:
出島小宇宙戦争
Romanized Title:
Dejima Shouuchuu Sensou
Troupe:
Moon
Year:
2020
Performances:
Theater Drama City, 02/08 - 02-16; Toshima Arts & Culture Theater,
02/24 - 03/01
[1]
Author / Director:
Tani Takaya
Composer:
Oota Takeshi
,
Takahashi Megumi
Choreographer:
Wakao Risa
,
Sakuragi Ryousuke
,
KAORIalive
Available on Blu-Ray:
Yes (
release date 07/08/22
)
Available on DVD:
No
DVD Scene/Music Cut:
No
WARNING!! MAY CONTAIN SPOILERS!!
In a parallel world where aliens crept into Dejima Nagasaki along with the foreigners. Recently, in Edo Town such rumors are circulating and seem plausible. In the Bakufu where war is looming, the Tenmonkata Office is the most knowledgeable of the cosmos, and Kageyasu has been ordered to infiltrate and investigate. Kageyasu has been working as a spy for the Edo shogunate who has experience with unknown cultures from his work on the expedition to Karafuto (Sakhalin). He sets out for Kyushu, where an astonishing sight awaits. All of Nagasaki has been transformed into a strange, futuristic city. He meets a woman named Taki in Dejima, and with her cooperation begins to investigate the puzzle of the true origin of the Westerner who has brought such futuristic technology: Philipp Franz von Siebold.
Who is an alien, and who isn't? What is real, and what isn't? Kageyasu is caught up in a space opera both micro and macro in this Digital Magical Musical; a staging of a parallel world Dejima with a touch of comedy.
Due to safety concerns over the COVID-19 coronavirus, the Tokyo performances from 02/29 to 03/01 were cancelled.
None yet.
| | | | |
| --- | --- | --- | --- |
| Poster | DVD | VHS | CD |
| None Yet | None Yet | None Yet | None Yet |