The Man Who Was Magic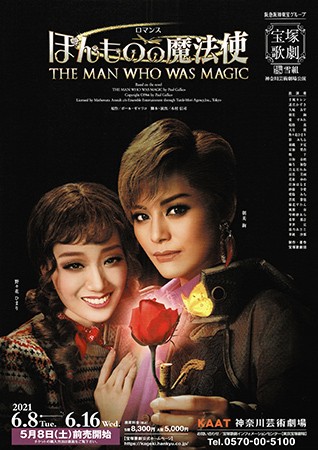 Picture Credit: Scan from personal collection | Official chirashi
English Title:
The Man Who Was Magic
Japanese Title:
ほんものの魔法使
Romanized Title:
Honmono no Mahoutsukai
Troupe:
Snow
Year:
2021
Performances:
Bow Hall, 5/21 - 6/1; KAAT Kanagawa Arts Theater, 6/8 - 6/16
Based On:
The novel
The Man Who Was Magic
by Paul Gallico.
Author/Director:
Kimura Shinji
Composer:
Hasegawa Masahiro
,
Ueda Hironori
Choreographer:
Momoka Sari
Conductor:
n/a
Available on Blu-Ray:
Yes (
release date 08/23/21
)
Available on DVD:
No
DVD Scene/Music Cuts:
No
Other Cast:
Manahi Michi
,
Asahana Suwan
,
Fuuga Kanade
,
Kotomine Saara
,
Kisui Naoto
,
Kirino Asato
,
Kasumi Sana
WARNING!! MAY CONTAIN SPOILERS!!
A young man named Adam comes to Mageia, the city of magic, with his talking dog, Mopsey. Adam participated in the magician exam qualifying session with the girl Jane, who he met in the city. The trick he performed was unknown to any of the judges. Maybe he's a real magician, not just an illusionist. The existence of Adam, who is different from anyone else, causes a great uproar that shakes the whole of Mageia. The final thing that Adam wanted to convey through "simple" magic was....
A humorous and heartwarming fantasy based on the theme of "magic" that everyone longs for.   
Any other interesting or important stuff.
None yet.
| | | | |
| --- | --- | --- | --- |
| Poster | DVD | VHS | CD |
| None Yet | None Yet | None Yet | None Yet |