The Bund / Neon Shanghai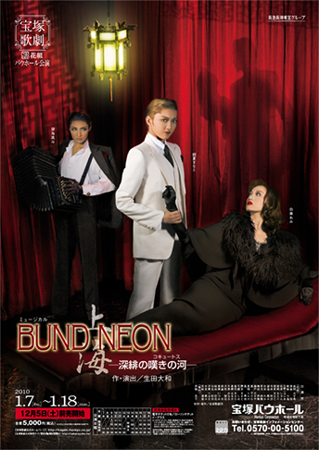 Picture Credit: coeuraubonheur | Official Chirashi
English Title:
The Bund / Neon Shanghai -Cocytus, River of Deep Scarlet Grief-
Japanese Title:
「BUND/NEON 上海」-深緋(こきあけ)の嘆きの河(コキュートス)-
Romanized Title:
BUND/NEON Shanhai -Kokiake no Nageki no Kokyuutosu-
Troupe:
Flower
Year:
2010
Performances:
Bow Hall, 01/07 - 01/18
Based On:
Author/Director:
Ikuta Hirokazu
Composer:
Oota Takeshi
,
Takahashi Megumi
Choreographer:
Miori Yumino
Available on DVD:
Yes (
release date 1/12/13
)
In parentheses are the official Japanese pronunciations of the Chinese names.
WARNING!! MAY CONTAIN SPOILERS!!
1930s, London, England. A young man who is an investigator at Scotland Yard makes the acquaintance and becomes close to the daughter of a well-to-do family. It seems that he has a future anyone could envy awaiting him. But then one day his love disappears. He himself makes inquiries, but the case seems unsolvable. Nothing could clear his heart of this unexpectedly cruel fate which has befallen him. Unable to stand it any longer, his superior gives him a furlough. His chosen holiday destination is Shanghai, a hazy memory of a place where he spent his childhood. There he achieves an unexpected reunion with his love's older sister..... But on this stage of Shanghai, that demon city which has reached its full maturity after being a concession of major powers, one young man is reunited with his forgotten past, and reborn — as written in this suspenseful musical.
Asahi Stage Gallery
None yet.
| | | | |
| --- | --- | --- | --- |
| Poster | DVD | VHS | CD |
| None Yet | None Yet | None Yet | None Yet |