Angel's Ladder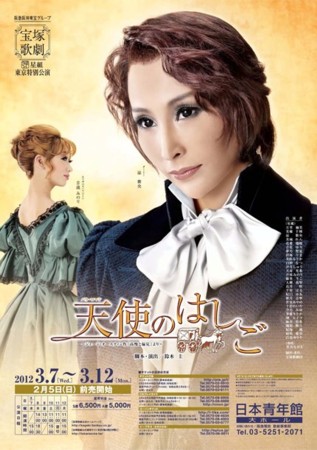 English Title:
Angel's Ladder
Japanese Title:
天使のはしご
Romanized Title:
Tenshi no Hashigo
Troupe:
Star
Year:
2012
Performances:
Nippon Seinenkan, 03/07 - 03/12; Bow Hall, 03/19 - 03/31
Based On:
Jane Austen's
Pride and Prejudice
Author / Director:
Suzuki Kei
Composer:
Yoshida Yuuko
Choreographer:
Wakao Risa
,
Hirasawa Satoshi
Available on DVD:
No
WARNING!! MAY CONTAIN SPOILERS!!
"It is a truth universally acknowledged, that a single man, in possession of a large fortune, must be in want of a wife."
England is at war with the French forces led by Napoleon. In the rural area of Hertfordshire, a family with five daughters views the abundance of young officers with delight.
They are the Bennets. Mr. Bennet is sarcastic and somewhat reclusive to avoid being annoyed by his wife, who is very trying with her rapidly changing moods. Jane, the eldest daughter, is calm and well-mannered and considered a great beauty. Elizabeth, the second, is vivacious and spirited and is a student of character. She and Jane are very close. Mary, the middle girl, is moody and believes she has musical talent...emphasis on believes. Catherine, or Kitty, and Lydia, the youngest two girls, run around together and flirt outrageously with any young man who will look at them.
The Bennets' chief problem is that since all the children are girls, none of them can inherit the house and family property. Their nearest male relative, Canon Collins, will inherit those, to Mrs. Bennet's great disgust.
News comes that a vacant estate in the neighborhood has been purchased by Mr. Bingley, a wealthy young man from London, and Mrs. Bennet immediately begins scheming as to how to make him fall in love with Jane.
Mr. Bingley's friend Mr. Darcy observes that Mrs. Bennet is scheming, so he resolves to keep Bingley from making a bad match. However, he finds himself piqued by Jane's sister Elizabeth, who has the backbone to stand up to him and even tease him despite his wealth and cold manner.
Darcy has to decide if it is really worth "saving" Bingley from Jane - only to fall for Elizabeth himself!
The fourth Bow Hall lead performance for Suzumi Shio.
An "Angel's Ladder" or "Jacob's Ladder" is a formation of crepuscular rays (On YouTube).
None yet.
| | | | |
| --- | --- | --- | --- |
| Poster | DVD | VHS | CD |
| None Yet | None Yet | None Yet | None Yet |