Takarazuka Hana no Odori Emaki / An Officer and a Gentleman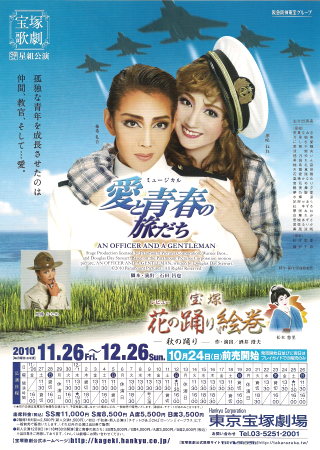 Picture Credit: official flyer
English Title:
Takarazuka Floral Dance Scrolls -Autumn Dance- / An Officer and a Gentleman
Japanese Title:
宝塚花の踊り絵巻」-秋の踊り-/愛と青春の旅だち
Romanized Title:
Takarazuka Hana no Odori Emaki -Aki no Odori- / Ai to Seishun no Tabidachi
Troupe:
Star
Year:
2010
Performances:
Takarazuka Grand Theater, 10/08 - 11/08; Tokyo Takarazuka Theater, 11/26 - 12/26
Shinjin Kouen Performances:
Takarazuka Grand Theater, 10/26; Tokyo Takarazuka Theater, 12/09
Takarazuka Hana no Odori Emaki:
Author:/Director:
Sakai Sumio
Composer:
Yoshida Yuuko
,
Terada Takio
Choreographer:
Hanayagi Jusuke
,
Yamamura Waka
,
Fujima Kanjuurou
,
Wakao Risa
Conductor (Takarazuka):
Ooyagi Yasushi
Conductor (Tokyo):
Shiota Akihiro
An Officer and a Gentleman:
Based On:
The 1982 film "An Officer and a Gentleman"
Author/Director:
Ishida Masaya
Composer:
Teshima Kyouko
,
Nakao Tarou
Choreographer:
Iga Yuuko
,
Miori Yumino
Conductor (Takarazuka):
Sasada Aiichirou
Conductor (Tokyo):
Shiota Akihiro
Shinjin Kouen Director:
Ikuta Hirokazu
Available on DVD:
Yes (
release date 12/23/2010
)
DVD Scene/Music Cuts:
None
Special appearance in
Takarazuka Hana no Odori Emaki
only:
Matsumoto Yuri
An Officer and a Gentleman
Other Cast:
Masabuki Minori
,
Kizaki Reo
,
Shizuki Otone
,
Wakanatsu Ayame
,
Sorano Miyu
,
Tamahana Yufu
,
Oushina Yuu
,
Sayaka Shion
,
Marina Mayu
,
Hyuuga Ran
,
Shouma June
,
Hinatano Karin
,
Murasaki Rira
,
Hinami Fuu
,
Outsu Risa
,
Ouzuki Akari
,
Mai Hinano
,
Seo Yuria
,
Renju Kouki
,
Shidou Ryuu
,
Kisaki Airi
,
Shiratori Yuriya
,
Gojou Marina
,
Takuto Rei
,
Asamizu Ryou
WARNING!! MAY CONTAIN SPOILERS!!
Takarazuka Floral Dance Scrolls
A Japanese revue performed in the distinctive style of Takarazuka, which unfolds with majesty and brilliance while incorporating the essence of Kabuki. This is a splendidly composed revue, mainly of the beautiful atmosphere of autumn, with its brilliantly changing colors of chrysanthemums and autumn leaves. Also featured is a winter of pure-white snow, in a show that spans to spring with its pink hues of the cherry blossom.
---
An Officer and a Gentleman
After his mother dies, young Zachary Mayo is sent to live with his father, Byron, a Navy man who is stationed in the Philippines. Never much of a father, Byron prefers drinking and prostitutes to taking care of his young son. Zack spends his youth in this rough environment.
He eventually returns home to the United States together with his father, and graduates from university. Yet the move does not alter his surroundings, as Byron carries on with his depraved lifestyle. Zack announces to Byron his decision to enroll in the Naval Aviation Officer Candidate School. Zack has dreamed of becoming a naval officer and flying jet aircraft. But in order to do that, he must spend six years in training, starting with a hellish boot camp lasting 13 weeks. However, Byron simply dismisses his ambition, saying Zack lacks what it takes to endure such a course. Zack pays no need to his father's words. He sets off on his journey.
At the Naval Aviation Officer Candidate School in Port Rainier, Sergeant Foley, a strict instructor, awaits the new cadets. He loudly announces to them that his mission is to make anyone not up to scratch DOR, which means Drop On Request, from the program. Foley goes on to explain what the cadets will encounter during their training. He also warns them from paying too much attention to the women around the base, whose only goal is to seduce cadets with the aim of having future elite officers as their husbands.
Zack's new life, dictated by strict rules and brutal training, now gets under way. He achieves outstanding results from the obstacle course, even earning a glowing assessment from the school director. Foley, however, is concerned. He determines that Zack lacks the ability to act as a member of a group, an essential skill for a military person, who is, after all, a member of an organization, and has no spirit capable of extending consideration and sympathy to one's comrades.
A party is held one night to provide some relief to the cadets, who have been subjected to the harsh training. The event also serves to a promotional activity for the Navy. In attendance are Paula and Lynette, who work at a paper mill near the base. Zack has a casual relationship with Paula, but as he gets to know her down-to-earth personality, he finds himself attracted to her.
The cadets start dropping out of the program one after the other, as the training becomes more and more intense. In order for Zack to realize his dream of piloting a jet plane, he and his fellow cadets, Perryman, Della Serra and Sid, set off to stand up against the severe authority of Sergeant Foley.
Sumire Style Stage GRAPH
None yet.
| | | | |
| --- | --- | --- | --- |
| Poster | DVD | VHS | CD |
| None Yet | None Yet | None Yet | None Yet |