Shangri-La - Palace of Water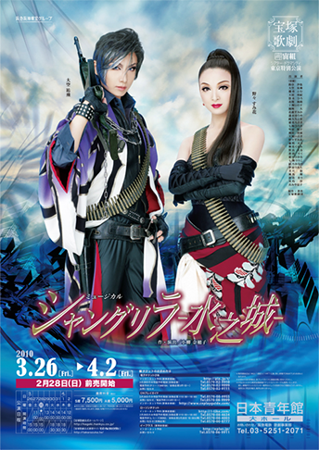 Picture Credit: coeuraubonheur | Official Chirashi
English Title:
~Shangri-La~~ - Palace of Water
Japanese Title:
「シャングリラ -水之城-」
Romanized Title:
Shangurira - Mizu no Shiro
Troupe:
Cosmos
Year:
2010
Performances:
Theater Drama City, 03/09 - 03/21; Nippon Seinenkan, 03/26 - 04/02
Author/Director:
Koyanagi Naoko
Composer:
Yoshida Yuuko
, Special Thanks to Pia-no-jaC
Choreographer:
Miori Yumino
,
KAZUMI-BOY
Available on DVD:
Yes (
release date 06/05/10
)
DVD Scene/Music Cuts:
None
Other Cast:
Kotoha Sakurako
,
Kazahane Reia
,
Amakaze Ibuki
,
Maika Kurumi
,
Sasara Eru
,
Nanase Ririko
,
Yuino Kanari
,
Mitsuki Haruka
,
Mirei Jun
WARNING!! MAY CONTAIN SPOILERS!!
Set in Japan after a nuclear war. It is a world where due to the war water has become polluted, and a king has taken supreme authority and controls the water source. One day, a man who collapsed in the wasteland is saved by a troupe of traveling entertainers. The man has escaped death; however, he has completely lost his memory. The only clue to his past is the blue beaded necklace he's wearing. That necklace was sent by Miu, one of the troupe's dancers, to the man she loved — who went missing when he set off in search of the legendary realm of the former king, "Shangri-La". Miu gives the man the name "Sora" and together, in order for him to recover his past and her to find her love, they embark on a journey to search for "Shangri-La". Thus begins their destiny, which will influence the future of the country...
A futuristic fantasy depicting love and friendship set in a ruined world.
Asahi Stage Gallery
None yet.
| | | | |
| --- | --- | --- | --- |
| Poster | DVD | VHS | CD |
| None Yet | None Yet | None Yet | None Yet |