Beyond the Blaze: Odysseus and Commodus Versions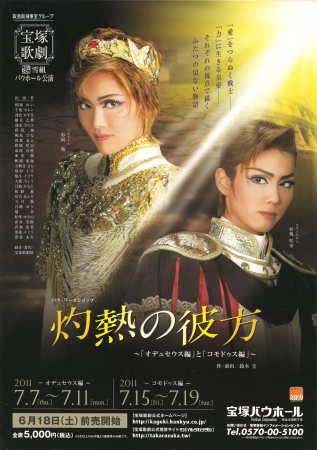 Picture Credit: Zaraphena
English Title:
Beyond the Blaze ~Odysseus Version and Commodus Version~
Japanese Title:
灼熱の彼方
Romanized Title:
Shakunetsu no Kanata -Odysseus-hen to Commodus-hen-
Troupe:
Snow
Year:
2011
Performances:
Bow Hall, 07/07 - 07/11 (Odysseus Version); 07/15 - 07/19 (Commodus Version)
Author / Director:
Suzuki Kei
Composer:
Choreographer:
Available on DVD:
No
Other Cast:
Amane Sara
,
Amatsuki Tsubasa
,
Shiramine Yuri
,
Tachibana Kou
,
Aoi Miki
,
Machi Yuuka
WARNING!! MAY CONTAIN SPOILERS!!
Bow workshop.
180 AD. General Odysseus follows emperor Marcus Aurelius, but the next emperor, Commodus, is worried by his ambition and hopes for peace. The threads of war that wind between these two men who can find no common ground, and the woman who makes them both tremble. A love triangle, written from two perspectives.
Any other interesting or important stuff.
None yet.
| | | | |
| --- | --- | --- | --- |
| Poster | DVD | VHS | CD |
| None Yet | None Yet | None Yet | None Yet |