Samourai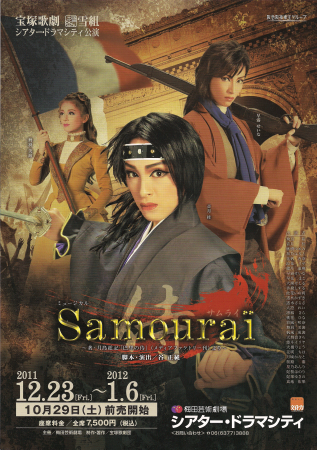 Picture Credit: Zaraphena
English Title:
Samourai
Japanese Title:
SAMOURAI(サムライ)
Troupe:
Snow
Year:
2011-2012
Performances:
Theater Drama City, 12/23 - 01/06; Nippon Seinenkan, 01/13 - 01/20
Based On:
The Samurai of Paris
by Tsukishima Souki, published by Media Factory
Director:
Tani Masazumi
Composer:
Yoshizaki Kenji
,
Wakita Minoru
,
Mizuno Hisaoki
Choreographer:
Yamamura Waka
,
Shou Sumire
Available on DVD:
Yes (
release date 03/23/12
)
DVD Scene/Music Cuts:
none
WARNING!! MAY CONTAIN SPOILERS!!
1871. At the end of the Franco-Prussian War, Emperor of the French Napoleon III has failed in all of his efforts and capitulates to Prussia. But the citizens of Paris do not accept his surrender and create a people's government — the "Paris Commune" — and boldly challenge the Prussians to do battle. However, the government made by the people sees its end after only 72 days. In the midst of that battle, there was a samurai carrying a katana inherited from Sakamoto Ryoma who fought to the bitter end as a citizen of Paris... His name was Maeda Masana. Born the son of a warrior-class family from Satsuma, he was mentored by Sakamoto Ryoma and spent his life trying to discover what Japan was meant to be. A historical musical portraying the drama of his younger days.
Any other interesting or important stuff.
None yet.
| | | | |
| --- | --- | --- | --- |
| Poster | DVD | VHS | CD |
| None Yet | None Yet | None Yet | None Yet |