Robert Capa: A Record of the Soul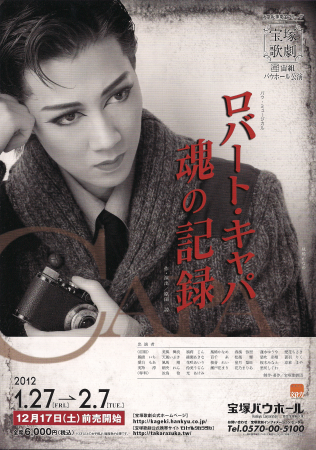 Picture Credit: Zaraphena
English Title:
Robert Capa: A Record of the Soul
Japanese Title:
『ロバート・キャパ 魂の記録』
Romanized Title:
Robaato Kapa Tamashii no Kiroku
Troupe:
Cosmos
Year:
2012
Performances:
Bow Hall, 01/27 - 02/07; Nippon Seinenkan, 02/15 - 02/20
Author / Director:
Harada Ryou
Composer:
Oota Takeshi
Choreographer:
Hayama Kiyomi
,
Masaki Rino
Available on DVD:
Yes (
release date 04/13/12
)
DVD Scene/Music Cuts:
No
WARNING!! MAY CONTAIN SPOILERS!!
Robert Capa — purported to be the best photojournalist of the 20th century. With his camera he captured people's sorrow, joy, passion, fury and love. Even now, the record he left behind of his life has not faded, but continues to be an inspiration.
Forced to leave Berlin with his friend Chiekh Weisz because of his Jewish ancestry (and wanted by the police for his photo reporting of riots), Endre Friedmann takes on a job as a photojournalist in Paris. One day at a café, he meets "Chim," a perky English photographer, and his friend Henri, who is French. When the three young men snicker over how two whiny women are tormenting an older man carrying a painting, their amusement is turned to shock as they realize he is Pablo Picasso, the famous artist. They all rush to take photographs.
In 1930s Paris, demonstrations by the people's front have intensified. Endre, using a camera that is unusually small for its time, succeeds in slipping into the crowd and taking several pictures. It is a moment that makes it possible to convey not only the spectacle of the scene but also the "heart" of his subjects. Shortly afterward, a young woman comes to his office with a copy of the picture, looking for a secretarial job. She likes what she sees in his work and is determined to help him in any way she can. Her name is Gerda Pohorylle, and like Endre she is of German Jewish extraction, in exile.
Before long Endre is becoming frustrated with his marketing efforts. Because his last name is common, people are pirating his work and not giving him credit — or money. Gerda suggests he try a "nom de plume" and they spend quite a while trying all sorts of different combinations, with the one suggesting a name only to have the other turn it down. Finally they agree on Robert, then Gerda plops down at the typewriter to hammer out a last name. Capra…"take out the 'r',"" says Endre...CAPA! They quickly formulate a bio for Robert Capa — he's a famous American photojournalist from New York. The name takes off, and the business starts being more profitable.
There is one person, however, who is bitter over the name change. Julia Friedman scorns her oldest son for turning to such a subterfuge, feeling that he is ashamed of his name and his ancestry. She disowns him. Endre argues that all his dreams are built on that name and he can't give it up now.
News starts to roll in that there is trouble in Spain. Anti-fascists from all over the world gather in Spain, carrying the banner of idealism. Endre and Gerda, along with Chim and Henri, head to Madrid to chronicle the struggle for freedom to the rest of the world via photographs.
After meeting some of the Spanish soldiers and their families, Endre is convinced that that photographing the truth and conveying it to people is his personal mission. He heads toward the front lines...
A dramatic musical portraying the life of a man who lived, loved and fought with single-minded purpose amidst the waves of an era of turmoil - searching for the true form of humanity.
STOP READING NOW IF YOU DON'T WANT THE END SPOILED.
While in the midst of the battle, Endre takes one of his most famous photographs, "The Falling Soldier." The battle was a losing one for the anti-fascists, and one of the young soldiers deliberately ran out and gave him the chance for the shot, despite Endre's protests that a photograph wasn't worth losing his life. Federico was determined that through the photo the world would learn of their position - and thus that it was worth the risk.
Heartsick over Federico's death, Endre makes sure the photo is published in magazines and newspapers all over Europe and the United States. A huge controversy breaks out, with some arguing that the photo is a fake and others believing that it is real.
LIFE magazine asks that Capa come back to Paris for an interview. Endre, who by now is in love with Gerda, assumes she will come with him. She declines, hurting him. She explains that he needs someone to keep covering the events in Spain, and that she will always love him. He is somewhat comforted and finally proposes to her at the train station in Madrid. Gerda says "yes." They plan to live in Paris and raise their children there. Just as she is walking away he pulls what has become a classic trick - he raises his camera and calls her name. "Click."
In Paris, the interview goes smoothly. To Endre's surprise, his mother comes back on another visit, this time from Budapest, where she is now living. She has forgiven him, largely because of his war work, and tells him to bring Gerda to visit her. He promises.
Endre goes to call Gerda at the hotel in Madrid, to tell her all went well. He gets Henri on the line and asks for Gerda - will he pass over the phone? Henri, in tears, says he can't. Gerda can't come. She's dead. Endre doesn't believe him. Henri chokes out the story. As Gerda was going through the streets in Madrid, she was hit and killed by a tank.
Endre collapses, dropping the phone. All he has is a picture of Gerda - the only woman he ever loved — and she is gone, for good. In his despair, he almost smashes his camera, thinking there is no way he can keep going. At last he manages to remember her, when she told him she loved Endre Friedmann for who he was, not the fictitious Robert Capa. He decides his job is to keep going — and to keep taking photographs.
Years pass. Endre goes ashore with the American troops on D-day, taking hundreds of photographs of the invasion. Due to a darkroom accident, only a handful survive, blurry, horrific. He was becoming one of the world's best known war photographers when he went with troops into Indochina in 1954. On May 25, he walked off the road to take a photo and accidentally stepped on a mine that exploded, killing him.
One of his last photos shows the soldiers walking across the field ahead of him.
None yet.
| | | | |
| --- | --- | --- | --- |
| Poster | DVD | VHS | CD |
| None Yet | None Yet | None Yet | None Yet |