Prince of Roses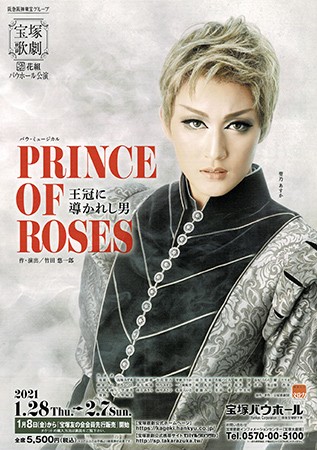 Scan from personal collection | Official chirashi
English Title:
Prince of Roses -The Man Led by the Crown-
Japanese Title:
PRINCE OF ROSES-王冠に導かれし男-
Romanized Title:
Prince of Roses -Oukan ni Michibikareshi Otoko-
Troupe:
Flower
Year:
2021
Performances:
Bow Hall 01/28 - 02/07
[1]
Based On:
the War of the Roses
Author / Director:
Takeda Yuuichirou
Composer:
Oota Takeshi
,
Uryuu Akiha
,
Tada Risa
Choreographer:
Miori Yumino
,
Hirasawa Satoshi
Available on DVD:
No
Available on Blu-Ray:
No
DVD Scene/Music Cuts:
n/a
WARNING!! MAY CONTAIN SPOILERS!!
The War of the Roses (1455-1485), a turning point in the history of England, where the Lancasters and the House of York divided the domestic princes and knights between them in a power struggle. Henry Tudor (later Henry VII), a Lancaster through his mother's line, finally wins. This begins the Tudor dynasty and lays the foundation for modern England.
Henry VII, who lived between the times of Richard III and Henry VIII, has been regarded as a mysterious person. As a member of the Lancaster family (the red roses), he was drawn into conflict with Edward IV and Richard III of the York family (the white roses). This work depicts a man thinking of his mother and the expectations of his friends throughout his life, as he aimed for peace in England and the throne.
None yet.
| | | | |
| --- | --- | --- | --- |
| Poster | DVD | VHS | CD |
| None Yet | None Yet | None Yet | None Yet |