People Who Have Wings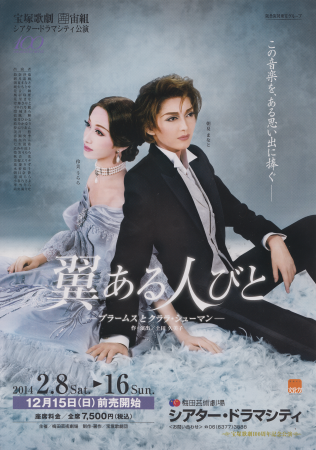 Picture Credit: Zaraphena | Official Chirashi
English Title:
People Who Have Wings ~Brahms and Clara Schumann~
Japanese Title:
翼ある人びと -ブラームスとクララ・シューマン-
Romanized Title:
Tsubasa Aru Hitobito -Buraamusu to Kurara Shuuman-
Troupe:
Cosmos
Year:
2014
Performances:
Theatre Drama City, 02/08-02/16; Nippon Seinenkan, 02/26-03/03
Based On:
The life of Johannes Brahms and his relationship with Robert and Clara Schumann.
Author / Director:
Ueda Kumiko
Composer:
Saitou Tsuneyoshi
,
Aoki Tomoko
Choreographer:
Hayama Kiyomi
,
AYAKO
,
KAZUMI-BOY
Available on DVD:
Yes (
release date 05/11/14
)
DVD Scene/Music Cuts:
No
Role
Cast
Johannes Brahms (composer)
Asaka Manato
Robert Schumann (Romantic composer)
Ozuki Tooma
Clara Schumann (a musician and composer, Robert's wife)
Reimi Urara
Bertha (a cook in the Schumann household)
Suzuna Saya
Eda von Reuenthal (an advisor to the music world. Called the Countess)
Junya Chitose
Vera (owner of a pub in Hamburg)
Kanon Mai
Doctor Hermann (Robert's personal physician)
Kazahane Reia
Katarina (Brahms housekeeper in his last years)
Hanasato Mana
Joseph Joachim (a famous violinist and friend of the Schumanns)
Sumiki Sayato
Louise Jaffa (Clara's piano student)
Sumireno Rei
Ludwig von Beethoven (a famous German composer and pianist)
Rinjou Kira
Otto Wesendonck (a banker in Geneva, a patron of the musical arts)
Matsukaze Akira
Franz Liszt ( a Romantic pianist and composer)
Aizuki Hikaru
Leonora Senf (wife of the president of a music publishing house in Leipzig)
Yuino Kanari
Mathilde Wesendonck (Otto's wife)
Yumesuzu Rian
Julius Grimm (a young man who wants to be a composer)
Mitsuki Haruka
Richard Wagner (composer of Romantic operas)
Haruse Ouki
Carolyne von Wittgenstein (Marchioness Wittgenstein, Liszt's lover)
Mamiya Ryouko
Emil Schumann (Clara's oldest son)
Akine Hikaru
Felix Schumann (Clara's son)
Hanabishi Rizu
Julie Schumann (Clara's daughter)
Haruha Rara
Other Cast
:
Asao Ren
,
Nanao Maki
,
Miou Erina
,
Mizuka Ichi
,
Asahina Aoi
,
Koharuno Sayo
,
Hanayuki Rira
,
Naomi Rise
WARNING!! MAY CONTAIN SPOILERS!!
A story centered on the youth of Johannes Brahms, whose genius was praised by Robert Schumann. Brahms was close friends with both Schumman and his wife Clara; this is the story of how they met, and how they parted ways. One day the young Brahms comes to stay with the Schummans, and they are struck by his musical gifts. Their support changes his fate. Schumann invites Brahms to live with them, and to become their student, but Brahms falls in love with Clara....
Any other interesting or important stuff.
None yet.
| | | | |
| --- | --- | --- | --- |
| Poster | DVD | VHS | CD |
| None Yet | None Yet | None Yet | None Yet |