Occidental Secret Medicine / Jewels and Robber / White Christmas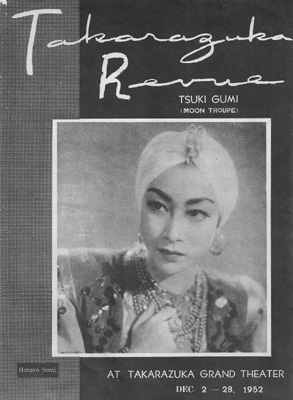 Picture Credit: English language program
English Title:
Occidental Secret Medicine / Jewels and Robber / White Christmas
Japanese Title:
ぼてれん秘薬 / 宝石と盗賊 / ホワイトクリスマス
Romanized Title:
Boteren Hiyaku / Houseki to Touzoku / Howaito Kurisumasu
Troupe:
Moon
Year:
1952
Performances:
Takarazuka Grand Theater, 12/02 - 12/28
Occidental Secret Medicine:
Based On:
The dance drama "Dumb Wife."
Author/Director:
Takasaki Kunisuke
Composer:
Yamane Hisao
Choreographer:
Hanayagi Toshinosuke
Conductor:
Jewels and Robber:
Author:
Nakae Yoshio
Director:
Takagi Shirou
Composer:
Totoki Kazuo
,
Nakai Mitsuharu
Choreographer:
Terashima Tadashi
Conductor:
White Christmas:
Author/Director:
Yasumoto Shinji
Composer:
Choreographer:
Yasumoto Shinji
Conductor:
Available on DVD:
No
Occidental Secret Medicine:
Jewels and Robber:
WARNING!! MAY CONTAIN SPOILERS!!
The information here is from the English pamphlet, with few changes.
Occidental Secret Medicine
One-Act DanceComedy
Time: Around the end of the Edo Period (1603-1867)
Place: Nagasaki
A doctor by the name of Van Pulse newly arrived from Holland is an excellent physician who has the ability to cure all varieties of diseases, even love sickness. But this cure-all doctor is scatter-brained. And so, although he treats a dumb woman and succeeds in making her able to speak, he makes her husband deaf.
---
Jewels and Robber
Eight-Scene Operetta
With an enormous amount of gold amd silver jewels on his cart, Carat, the richest jeweler in Cairo, is hurrying on his way to Baghdad where he is going to make a proposal of marriage to Princess Apreza, daughter of a certain minister.
Unfortunately attacked by the robber Absin, Carat is robbed of his jewels and is thrown into a river. Eyeful Poda, who lives in a nearby windmill, rescues Carat from drowning and, with this happening as a happy chance, the youngsters fall in love.
The Chief of the Police Affairs Department, who is daffy about Poda, proposes for her to marry him in vain. Then he comes to hate Carat as his rival.
On a certain evening, a party is held for Princess Apreza and Carat, pretending to be an Egyptian prince, attends the party. The princess, who is flirtatious by nature, is instantly fascinated by him.
Impersonating Carat, Absin the robber also appears on the scene. Then the princess begins to waver in her choice--one is a prince and the other a rich merchant.
But Carat is nabbed since the chief of the Police Affairs Department reveals that the Egyptian prince is bogus.
Worrying about Carat, gentle-hearted Poda tells the minister, the father of Princess Apreza, that the arrested bogus prince is Carat and that the boy who is professing himself to be Carat is a robber.
At this, the situation changes. Carat is released, while Absin makes away with the princess' jewels. The robber runs away with the policemen at his heels....
---
White Christmas
12-Scene Christmas Revue Show
Dancers:
Narumi Chikako
,
Urayasu Nobuko
,
Hoshimiya Masumi
,
Yashiro Youko
Singers:
Hanaoka Natsumi
,
Uji Kaoru
,
Oka Makoto
Scene I: Masquerade
Scene II: Dance and Chorus by Choir
Scene III: Song of Santa Claus
Scene IV: Negro Song and Dance
Scene V: Javanese Dance and Song
Scene VI: Duet
Scene VII: Come On, My House
Scene VIII: Chanson (Dead Leaf)
Scene IX: Fan Dance
Scene X: Dance of Ribbon
Scene XI: White Christmas
Scene XII: Parade
Any other interesting or important stuff.
None yet.
| | | | |
| --- | --- | --- | --- |
| Poster | DVD | VHS | CD |
| None Yet | None Yet | None Yet | None Yet |