Nijinsky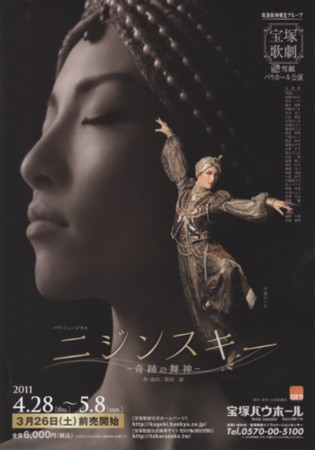 Picture Credit: official flier
English Title:
Nijinsky -The miraculous god of dance-
Japanese Title:
ニジンスキー -奇跡の舞神-
Romanized Title:
Nijinsukii - Kiseki no Maishin -
Troupe:
Snow
Year:
2011
Performances:
Takarazuka Bow Hall, 04/28 - 05/08; Nippon Seinenkan, 05/13 - 05/19
Based On:
The life of Vaslav Nijinsky
Author / Director:
Harada Ryou
Composer:
Aoki Tomoko
Choreographer:
Hayama Kiyomi
,
Masaki Rino
, Kobayashi Juuichi
Available on DVD:
Yes (
release date 07/08/11
)
DVD Scene/Music Cut:
No
Other Cast:
Suzuse Miuto
,
Shiranagi Suzu
,
Momohana Hina
,
Maisono Ruri
,
Kujou Asu
,
Amane Sara
,
Yuuto Iriya
,
Subaru Hanaka
,
Daiki Ryou
,
Hanae Chiho
,
Ouji Kaoru
,
Hoshino Anri
WARNING!! MAY CONTAIN SPOILERS!!
A musical depicting legendary gifted ballet dancer Vaslav Nijinsky through half of his lifetime. Romola is his wife and the love of his life; Diaghilev, the leader of the Russian ballet company "Ballets Russes", is antagonistic toward him. Set in the beginning of the 20th century in Paris — the era known as
les années folles
("the roaring twenties") — a dramatic portrayal of the glory and ruin brought about by one man's overabundance of beauty and talent.
Paris, around 1910. The city is bubbling with excitement over the appearance of up-and-coming ballet dancer Nijinsky. But despite his success, in his heart he is dissatisfied. He feels that somehow he is losing the feeling of dancing with his heart that he once had. Although sensing Nijinsky's troubles, Diaghilev is intent on promoting him. This is Diaghilev's twisted form of caring, as well as the manifestation of his desires. Even as he resists, Nijinsky has no choice but to accept it; his nerves become frayed and gradually frictions arise with those around him. The dancer Romola is the one supporting him. Nijinsky continues to harbor his love for Romola, but...
Any other interesting or important stuff.
None yet.
| | | | |
| --- | --- | --- | --- |
| Poster | DVD | VHS | CD |
| None Yet | None Yet | None Yet | None Yet |