Mélancolique Gigolo / Love Symphony II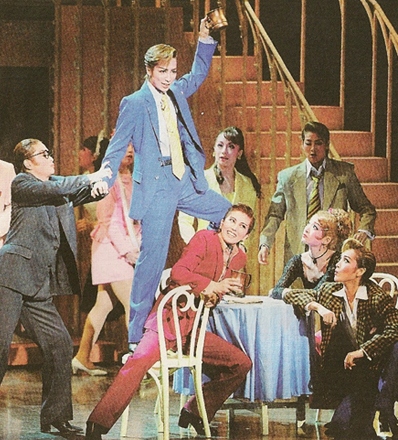 Picture Credit: Nanuk
English Title:
Mélancolique Gigolo -The Dangerous Heir- / Love Symphony II
Japanese Title:
メランコリック・ジゴロ-あぶない相続人- / ラブ・シンフォニーII
Romanized Title:
Merankorikku Jigoro -Abunai Souzokunin- / Rabu Shinfonnii II
Troupe:
Flower
Year:
2008
Performances:
Chunichi Theater, 2/2 - 2/25
Mélancolique Gigolo:
Based On:
Author/Director:
Masatsuka Haruhiko
Music:
Choreography:
Love Symphony II:
Author:
Director/Music:
Nakamura Kazunori
Choreography:
Available on DVD:
Yes (
release date 05/05/08
)
DVD Scene/Music Cut:
Yes
The following scenes from Love Symphony II were removed from the sequential video. The sound was replaced, and they can be found in a separate chapter on the extras menu.
Scene 4 Love Hunter, scene 6 Love Game, scene 13 Latin Symphony, scene 18 Finale
Others
:
Yuugiri Rai
,
Tsukio Kazusa
,
Shizuka China
,
Mineno Kazuma
,
Uraki Hiroto
,
Hatsuki Yoshiya
,
Mebuki Yukina
,
Ayashiro Rea
,
Hitomi Yuyu
,
Shiraki Akari
,
Kira Masato
,
Ayasaki Mei
,
Marika Yume
,
Hanaori Chisa
,
Hanaki Maho
,
Wataru Hibiki
,
Ousaki Ayaka
WARNING!! MAY CONTAIN SPOILERS!!
Mélancolique Gigolo
Daniel is a gigolo. His patron is a wealthy woman who supports his law studies at university. One day Daniel's patron discovers that the young man has a girlfriend. She immediately cuts off the supply of funds. Daniel is penniless and he is thrown out of his apartment. Stan, another gigolo and Daniel's friend, concocts a plan to get rich. Daniel joins him in a plan to defraud the family of Mr. Norbert who has recently passed away by posing as one of the heirs. They threaten a lawyer and out of fear he joins them.
The plan is successful but Daniel spends his small share on one drunken night on the town. However, the story is not over. There are other people who believe that Daniel is Norbert's heir. A girl called Felicia comes to Daniel. She is Norbert's daughter and has not seen Daniel, her older brother, for fifteen years.
Daniel looks so much like her real brother Felicia never doubts for a moment that he is her long lost brother. Felicia has been living alone since the mother she lived with passed away and she is thrilled to have found her brother. Daniel feels so guilty he can't bring himself to tell her the truth and he keeps the pretense going.
Next, Fondali, a man Norbert owed a great deal of money, demands Daniel pay the debt. Fondali believes that Norbert must have had a fortune in the bank. Fondali attacks Daniel after he is told the debt means nothing to Daniel and that anyway, there was little money in the bank. Later, a detective arrives and claims that Norbert and Fondali robbed a train sixteen years before. Norbert took all the money and disappeared. Fondali has been looking for him ever since. Daniel and Stan realize they have to leave town but Felicia is caught by Fondali. When Daniel tries to rescue her, Fondali captures him too and locks them both in a hotel room. Daniel fears that when Fondali finds out there is no money he will kill both of them.
Luckily, someone who Daniel used to treat to a drink now and then discovers the trapped pair and helps them escape. In fact, their rescuer is the man everyone thinks is dead, Norbert. After the train robbery Norbert discovered there was a traitor in the gang. He hid the money and went into hiding. Over the years the money was gradually spent until it was the small amount Daniel and Stan found in the bank. Norbert also tells them his real son had already died. Felicia is broken-hearted to hear this.
Norbert and Fondali are arrested for the train robbery. As Norbert is taken away he asks Daniel to take care of Felicia. Daniel promises to look after the girl he has already fallen in love with. Norbert gives Felicia her mother's locket as a keepsake.
The next morning. Felicia, who has gone home grieving for the loss of her newly found father and brother, opens the locket and finds a key and a note. The key is for a safe deposit box. In the box Felicia finds the money from the train robbery. She gives some money to Stan. Daniel takes her to the train station and they sadly try to say goodbye. Finally Daniel begs her to stay. He says he wants to get a job and live an honest life. Felicia jumps off the train into the arms of the man she loves.
---
Love Symphony II
Delight, encounters, passion... A revue composed the different forms love takes, and the emotions of love. Unfolding from a brilliant opening, through passionate dance scenes set to Latin music, and the bright world of jazz. Every genre of the music world is brought forth, and the joy and beauty of love spreads out before you.
None yet.
| | | | |
| --- | --- | --- | --- |
| Poster | DVD | VHS | CD |
| None Yet | None Yet | None Yet | None Yet |