Lure of the Icon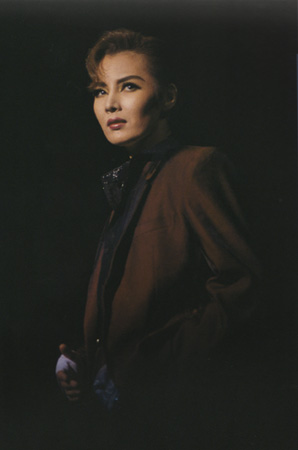 Picture Credit:
Zephy
/ 1998 Stage Album
English Title:
Lure of the Icon
Japanese Title:
イコンの誘惑
Romanized Title:
Ikon no Yuuwaku
Troupe:
Star
Year:
1998
Performances:
Bow Hall, 8/27 - 9/6; Nippon Seinankan, 9/10 - 9/20
Based On:
n/a
Author/Director:
Koike Shuuichirou
Composer:
Yoshida Yuuko
,
Kai Masato
,
Gokita Takehiko
Choreographer:
Maeda Kiyomi
,
Masaki Rino
,
Aoki Miho
Available on DVD:
VHS only
Other Cast:
Azusa Marin
,
Masumi Urara
,
Yukiji Kaho
,
Yoshino Kyouka
,
Tsubaki Hiroka
,
Ayame Hikaru
,
Mizushiro Rena
,
Suzuno Katsuki
,
Hiiro Moe
,
Yuuho Satoru
WARNING!! MAY CONTAIN SPOILERS!!
Tatiana is married to Leonard, a former American consulate worker in Russia during the cold war. Tatiana has returned to Russia now, ten years later, to help her husband in his search for Russian Orthodox icons. In a flash-back to the past, we learn that Tatiana had history with club owner Mikhail. They were ballet dance partners and young prodigies. Leonard helped to smuggle them across the iron curtain to America, but something went wrong, and Mikhail was stopped before he could leave.
Now he meets Tatiana again and the chemistry is still there. She disappears, spirited away by the mysterious Lucifer cult, and he employs his young workers and mobster friends to help him find his old flame. She has been kidnapped by Georgi and Olga, who used to work for the Lucifer cult, and....
It turns out Leonard was involved with them as well. His search for the icons is related to the fact that the alphabet used to label them contains a number code to a Swiss bank account of illegal funds collected by the cult. It turns out that he actually was responsible for keeping Mikhail in Russia all those years ago. The cult leader, Nikita is holding Leonard until he can find the password. Tatiana goes to find him (after being rescued from Georgi and Olga), and gets taken as well by Nikita's followers. Mikhail arrives with the missing icon, but the password doesn't work. The Russian police arrive and arrest Georgi, Olga, Nikita, and Leonard. Tatiana choses to go with her husband.
Later, Mikhail and his people have solved the bank account mystery, which had to do with a mix up between the original and a duplicate icon. He explains that he is giving up the club business and giving it to his young protege. Everyone leaves and he hears the song that reminds him of his last dance with Tatiana. She arrives, and tells him that her husband has told her to leave and start a new life. They decide to become ballet teachers together.
Two songs from Wildhorn's "The Scarlet Pimpernel" were adopted for this show: "When I Look At You" and "Where's the Girl?"
Fyre's Review
| | | | |
| --- | --- | --- | --- |
| Poster | DVD | VHS | CD |
| None Yet | None Yet | | None Yet |