Lancelot (Star 2011)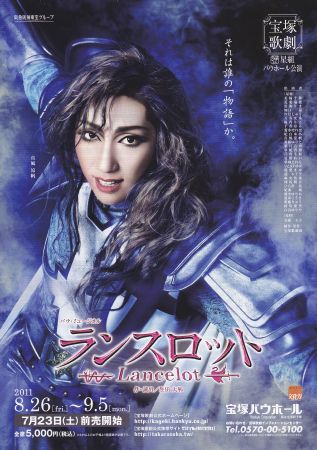 Picture Credit: rachpena
English Title:
Lancelot
Japanese Title:
ランスロット
Romanized Title:
Ransurotto
Troupe:
Star
Year:
2011
Performances:
Bow Hall, 08/26 - 09/05
Based On:
The legend of King Arthur
Author / Director:
Ikuta Hirokazu
Composer:
Choreographer:
Available on DVD:
No
WARNING!! MAY CONTAIN SPOILERS!!
The legend of Arthur, King of the Britons, has been the basis for a multitude of novels, films, etc. through the ages. With Lancelot, the leader of the Knights of the Round Table, as the hero, this musical will portray one man who sacrifices himself in the spirit of chivalry through his friendship and competition with the other knights, his loyalty to and conflicts with Arthur, and his love and suffering for the queen Guinevere.
Revo of the one-man music group Sound Horizon will be writing the theme song for this performance.
None yet.
| | | | |
| --- | --- | --- | --- |
| Poster | DVD | VHS | CD |
| None Yet | None Yet | None Yet | None Yet |