In Love For the First Time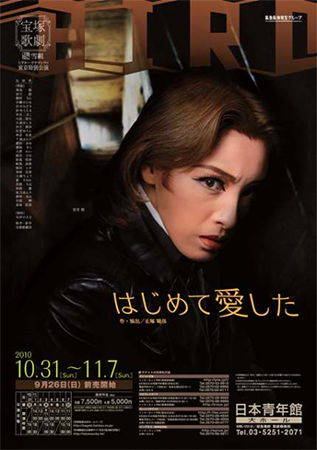 Picture Credit: coeuraubonheur | Official Chirashi
English Title:
In Love For the First Time
Japanese Title:
はじめて愛した
Romanized Title:
Hajimete Ai Shita
Troupe:
Snow
Year:
2010
Performances:
Theater Drama City, 10/13 - 10/25; Nippon Seinenkan, 10/31 - 11/07
Based On:
Author/Director:
Masatsuka Haruhiko
Composer:
Choreographer:
Available on DVD:
Yes (
release date 12/23/10
)
DVD Scene/Music Cuts:
None
Other Cast:
Hanaka Yurin
,
Kaon Yuuki
,
Chikaze Karen
,
Subaru Hanaka
,
Daiki Ryou
,
Ai Sumire
,
Hanae Chiho
,
Ouji Kaoru
,
Hoshino Anri
,
Soranami Kou
,
Machi Yuuka
WARNING!! MAY CONTAIN SPOILERS!!
Set in 1950s Europe, this is a musical with a hard-boiled touch about what happens when a man with two faces and a woman trying to flee from a relentless fiancé have a curious meeting. The lone-wolf assassin Bird is for all appearances a free-lance photographer named Guy. When firing his sniper rifle as usual, Bird realizes that he has been observed by a woman. But an instant later, the woman jumps off of the building. Bird investigates her whereabouts and learns what hospital she has been admitted into. He sneaks into the hospital, intending to deal with the woman who has witnessed his crime, but she has lost her memory....
Otozuki Kei's first performance as top star of Snow Troupe.
None yet.
| | | | |
| --- | --- | --- | --- |
| Poster | DVD | VHS | CD |
| None Yet | None Yet | None Yet | None Yet |