Hyperbolic Chart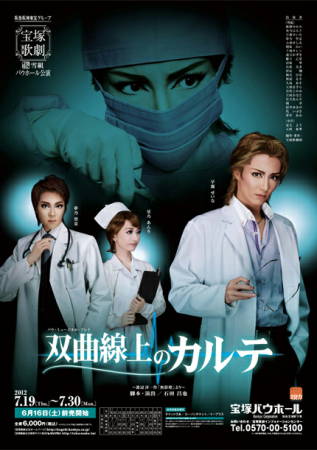 Picture Credit: Your wikiname
English Title:
Hyperbolic Chart
Japanese Title:
双曲線上のカルテ
Romanized Title:
Soukyokusenjou no Karute
Troupe:
Snow
Year:
2012
Performances:
Bow Hall, 07/19 - 07/30; Nippon Seinenkan, 08/08 - 08/13
Based On:
Watanabe Junichi's novel
Mueitou
Author/Director:
Ishida Masaya
Composer:
Teshima Kyouko
,
Nakao Tarou
Choreographer:
Masaki Rino
Available on DVD:
Yes (release date
10/26/2012
)
DVD Scene/Music Cuts:
No
WARNING!! MAY CONTAIN SPOILERS!!
The excellent surgeon, Fernando de Rossi, throws aside his appointment to an elite course at the Vatican Catholic university hospital to take a position working at a private hospital (Martino Medical Hospital) on the outskirts of Napoli. Fernando keeps to himself in solitary shadows, yet before she notices, nurse Monica has become attracted to his cold gaze, and fallen in love with him. Although his skills as a surgeon are excellent, he drinks during the night shift and operates in breach of medical law. Furthermore, the rumors of his womanizing never end. The young doctor Lambert, who aims to provide just and ideal medical treatment, reacts strongly against Fernando. However.... Although Fernando appears unmoved by those around him, behind his actions.... there is a secret lurking.
Watanabe Junichi's best-seller has also been adapted as the TV drama "White Shadows".
None yet.
| | | | |
| --- | --- | --- | --- |
| Poster | DVD | VHS | CD |
| None Yet | None Yet | None Yet | None Yet |