Hollywood Lover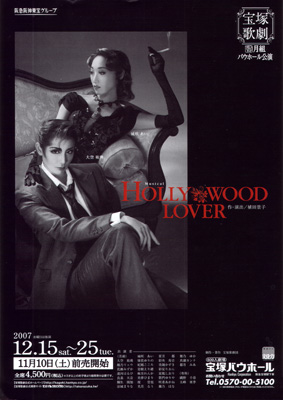 Picture Credit: caithion / promotional flier
English Title:
Hollywood Lover
Japanese Title:
HOLLYWOOD LOVER
Troupe:
Moon
Year:
2007-08
Performances:
Bow Hall, 12/15 - 12/25; Nippon Seinenkan, 1/19 - 1/25
Based On:
Author/Director:
Ueda Keiko
Music:
Aoki Tomoko
,
Teshima Kyouko
Choreography:
Miori Yumino
,
Suganuma Imari
Available on DVD:
Yes (
release date 03/20/08
)
DVD Scene/Music Cut:
None
WARNING!! MAY CONTAIN SPOILERS!!
Hollywood..... Wrapped in ostentation and a veil of secrecy; a town which is entangled in the dreams and ambitions of so many people.
This is the story of the people who come from all over to this kingdom of dreams in order to obtain anything: success, wealth, glory, and love. They are fine sport in the double-dealing movie industry which is made of lies; even wounded they search for their own place in the virtual image
the so-called silver-screen
and gamble their lives.
The bargaining for men and women's love, the feinting between artists. This is a stylish musical which will portray the graceful world of Hollywood; the bittersweet taste of missed love which can be played out in any era.
The end of the 1940s — The American movie town, Hollywood.
After the war, with the spread of television, it became difficult for the movie world to produce the epic movies done by big stars. In order to put this bad state of affairs behind them, Golden Empire Pictures makes a magnificent announcement for a new work "The Actress Sarah Bernhardt". The star will be Empire's leading actress, Rose L'Amour. And the director appointed is the up-and-coming Italian artist, Stefano Grandi. The journalists feel doubt over the reason Grandi has come all the way from Italy, and he himself is rumored to have had an affair with her at one time, and this is why she (a nameless girl of unknown parentage) had her movie debut in his "Hollywood Lover". But Rose received a proposal from the elite producer of Empire Pictures, Richard Logan, and after a sudden and unexpected wedding Stefano and Rose never worked together again, and his name immediately seems to be forgotten by Hollywood. And Stefano returned to his family in Italy, going on to stand out as a leading director of Italian Neo-Realism films.
Eight years later in Hollywood... The West Coast sun, the dry wind, the clouds of dust... and the movie studio. The dear memories that Stefano had locked in his heart are revived. His feeling of loss when Rose chose Richard over him... Now it's a bitter past, like an old wound.
In their hearts as the two meet again, the past and the present start to become entangled. And the feelings which they had stifled begin to overflow, and Stefano and Rose realize that they still both want each other.
Having once more what you have once parted with — Can it be forgiven? As the two rapidly fall violently in love, a premonition of disaster creeps in.
Takarazuka Precious: Sakakihara Kazuko's Takarazuka First Night & Event Revue article - Hollywood Lover
None yet.
| | | | |
| --- | --- | --- | --- |
| Poster | DVD | VHS | CD |
| None Yet | None Yet | None Yet | None Yet |