Hays Code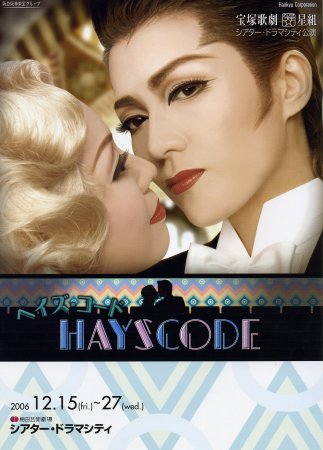 Picture Credit: quinquin (Program book)
English Title:
Hays Code
Japanese Title:
ヘイズ・コード
Romanized Title:
Heizu Koodo
Troupe:
Star
Year:
2006-2007
Performances:
Theater Drama City, 12/15 - 12/27; Nippon Seinenkan Hall, 1/4 - 1/11
Based On:
n/a
Author/Director:
Oono Takuji
Music:
Aoki Tomoko
,
Oota Takeshi
Choreography:
Iga Yuuko
,
Tamano Kazunori
Available on DVD:
Yes (
release date 4/5/07
)
DVD Scene/Music Cut:
None
WARNING!! MAY CONTAIN SPOILERS!!
The end of the 1930s in Hollywood. The Hays Code has been put into place by the PCA, restricting acceptable levels of violence and licentiousness in movies. For example, a kiss can't last longer than three seconds.
The new, passionate actress Livy protests the rules, and inspires Raymond to go to his old school friend Ralph Carlton to ask for his help. Together they intend to work around the new rules. But this causes friction with Raymond's fiance....
Takarazuka Precious: Sakakihara Kazuko's Takarazuka First Night & Event Revue article
None yet.
| | | | |
| --- | --- | --- | --- |
| Poster | DVD | VHS | CD |
| None Yet | | None Yet | None Yet |