Flying Sapa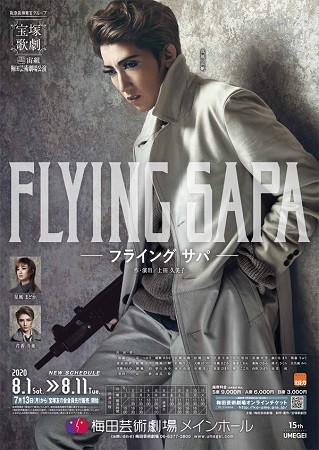 Picture Credit: Rosalynn | Official Chirashi
English Title:
Flying Sapa
Japanese Title:
FLYING SAPA -フライング サパ-
Troupe:
Cosmos
Year:
2020
Performances:
Umeda Arts Theater, 08/1 - 08/11; Nissay Theater, 09/06 - 09/15
Author / Director:
Ueda Kumiko
Composer:
Choreographer:
Available on DVD:
No
Available on Blu-Ray:
Yes (
release date 10/28/20
)
DVD Scene/Music Cuts:
No
Other Cast:
Mai Kokoro
,
Yamabuki Hibari
,
Sendou Naru
WARNING!! MAY CONTAIN SPOILERS!!
Sometime in the future, on Mercury (Polunca). A man whose past has been erased. A woman in search of a memory. An inscrutable crater "Sapa". The hinterlands of Sapa, where if you can reach it, they say your wish will be granted. Pilgrims intrude on the crater chasing dreams, or chased by crimes. Men and women in search of their past also....
Escaping from their enemies, these orphans of the starry skies wander into a late night. They're singing a song of the forbidden Earth...
Final performance for Amase Hatsuhi.
Due to the COVID-19 pandemic, the original run of this performance was canceled (TBS Akasaka ACT Theater, 03/30 - 04/15).
None yet.
| | | | |
| --- | --- | --- | --- |
| Poster | DVD | VHS | CD |
| None Yet | None Yet | None Yet | None Yet |