Fete Imperial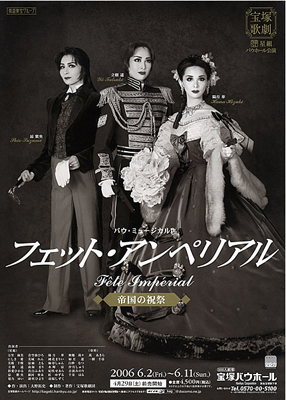 English Title:
Fete Imperial
Japanese Title:
フェット・アンペリアル-帝国の祝祭-
Romanized Title:
Fetto.Anperiaru - Teikoku no Shukusai -
Troupe:
Star
Year:
2006
Performances:
Bow Hall 6/2 - 6/11
Based On:
n/a
Author/Director:
Oono Takuji
Composer:
Takahashi Kuni
,
Oota Takeshi
Choreographer:
Iga Yuuko
,
Miyazaki Atsumi
Available on DVD:
No
Role
Main Cast
William Walshingam (lieutenant colonel in the English Navy, eldest son of the Earl of Walshingham, but illegitimate)
Tatsuki You
Emma Elizabeth Clutch (a courtesan of high style, "Cora" is her professional name)
Hizuki Hana
Neal Hamand (foreign affairs bureaucrat, William's roommate. Born a commoner, but he passed an exam to become a government worker)
Suzumi Shio
Claude Blancmel (vice-admiral in the navy, a peer, works for the intelligence establishment)
Ban Akira
Older William
Itsuki Chihiro
Olivia Cecilia Fitzgerald (Wife of Baron Fitzgerald. She's displeased with her husband, and so lives seperately)
Mari Yuzumi
Duc du Morny, Charles Auguste (a polititian, president of the legislature. Younger brother of Emperor Napoleon III by a different father)
Nishiki Ai
Robert Thomas (lieutenant colonel in the English army, lives with his friend William)
Miki Chigusa
Cynthia (secretly intelligence staff, she works as Baroness Cowley's ladies maid)
Ayame Hikaru
Marchioness Therese Rachman (a courtesan, a Russian spy)
Marino Yui
Emille Piere
Aozora Yahiro
Henry Richard Wesley, Baron Cowley
Mishiro Ren
Baron Scott Cairnes
Ryouma Tomo
Miss Howard (Elisabeth Anne Harriet) (former lover of Napoleon III, an English spy)
Minami Mari
Tatiana
Mashiro Fuari
Christopher (Cynthia's brother)
Ginga Ami
Lucy
Kosaki Hiyori
Countess Virgina Aldoini
Junka Marii
Arthur Walshingam (William's younger brother)
Mahiro Shun
Somerville
Mizuki Ryou
Katherine Morgan
Hisaki Seara
Thomas (Neal's son)
Kurenai Yuzuru
Violette
Hazakura Shizuku
Young Emma
Maiya Riri
Lily Multon
Shirotae Natsu
Edward
Shiotsuki Shuu
Young Katherine
Otoha Minori
Percy
Senju Haru
Other
:
Kisaragi Ren
WARNING!! MAY CONTAIN SPOILERS!!
The play begins at a ball, where a girl is terribly worried about her young man, Thomas. She has just learned that he is away on a dangerous spy mission. Vice-Admiral William Walshingham comforts her, and then tells his own story.
William and his friend Robert are drafted by their superiors on a mission to France. They are to work undercover there, as ordered by Vice-Admiral Blancmel. They have other agents that aid them and that they aid, including Neal, Cynthia, Christopher, and Emma. Emma's mission is to become the lover of the Duc du Morny, and William helps her set up the situation at a party by pretending to be an over-amorous lover that she flees from, ending up in the arms of the duc. Emma and William don't get along well, with sparks flying whenever they're in the same room. And Emma hates dancing with him, because he's pretty bad at dancing. Meanwhile, Neal and William don't get along well either, because Neal isn't in a hurry to get his hands dirty playing spy. With time, William falls in love with Emma. He attempts to get her to abandon her mission. Neal has slowly had a change of heart, particularly when he learns that William wasn't raised as a nobleman's son when he was a young boy, instead living alone with his mother. Neal tries to help William and Emma, but eventually Blancmel tracks them down and Emma agrees to carry out her mission, despite William's protests.
William realizes he doesn't know anything about Emma's past, although he has slowly come to learn that she used to be a dancer with her friend Katherine, who now dances at an entertainment spot in Paris. When she reached a certain age, without financial support, Emma was forced to leave the stage. Also, we learn, it has something to do with her father. She had agreed to work for Blancmel for a year, but three years later she is still working for him "just until the war ends".
However, the situation becomes turned on its head when the duc tells Emma he knows her real name and everything about her, including the death of her father the year previously. Emma is shocked by the news, and confronts Blancmel with it. He admits that her father is dead, and goes to attack her when William appears in the nick of time. With help from Neal, Robert, and Christopher, they fight off Blancmel and his man Somerville. Somerville attacks William with a knife, but Emma shoots him in the nick of time. Emma is at last free, but just as Blancmel is lead away Somerville manages to get off a final shot. Emma dies in William's disbelieving arms. He swears never to let agents be mistreated again, and so eventually becomes the man he is today, the leader of intelligence.
As the older William concludes his story, Thomas' companions bring the young man in, and the two lovers are reunited.
Fete Imperial - Review by Ekusudei
| | | | |
| --- | --- | --- | --- |
| Poster | DVD | VHS | CD |
| None Yet | None Yet | None Yet | None Yet |