Daytime Hustler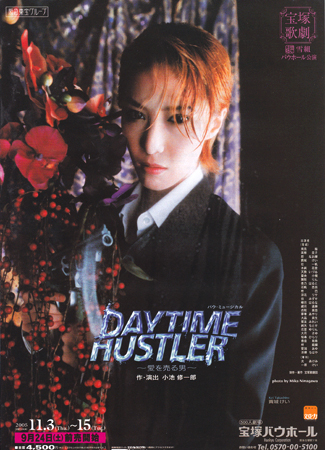 Picture Credit: wintershade
English Title:
Daytime Hustler
Japanese Title:
Daytime Hustler ~愛を売る男~
Romanized Title:
Daytime Hustler ~Ai wo Uru Otoko ~
Troupe:
Snow
Year:
2005
Performances:
Bow Hall, 11/3 - 11/15; Nippon Seinenkan Hall, 11/29 - 12/2
Based On:
Author/Director:
Koike Shuuichirou
Music:
Oota Takeshi
Choreography:
Kawasaki Etsuko
,
AYAKO
Available on DVD:
Yes (
release date 2/5/06
) &
VHS
DVD Scene/Music Cut:
No
Other Cast:
Ouju Hirari
,
Saeki Chihaya
WARNING!! MAY CONTAIN SPOILERS!!
A harbor town called Gold Beach on the West Coast of present day America. The old mission school called Gold Beach High is scheduled to be demolished, and a casino will be built in its place.
One of the teachers at the school, Laurence, has just self-published a collection of poems. He is organizing a program to help turn around problem children and get them clean from drugs. When he attempts to protest the casino project, one of the city councilman, Heywood, gets him sacked. He and Heywood are childhood friends, but they also competed over the same woman.
When his payment from the publisher runs out, Laurence gets an introduction from one of his former students to the club "Daytime Hustler" and begins working there as a host for a ladies escort service. He quickly becomes the most popular.
At the birthday party for a widowed client, Laurence meets Silvia, Heywood's fiance and the hotel king Adler's daughter. Unexpectedly, she has read Laurence's poems and is interested in the poet. The two grow close. Another of Laurence's customers is Carol, Heywood's lover. One day he gets a call from her, and when he gets there he finds that she has ceased to breath....
Any other interesting or important stuff.
None yet.
| | | | |
| --- | --- | --- | --- |
| Poster | DVD | VHS | CD |
| None Yet | None Yet | None Yet | None Yet |