Captain Nemo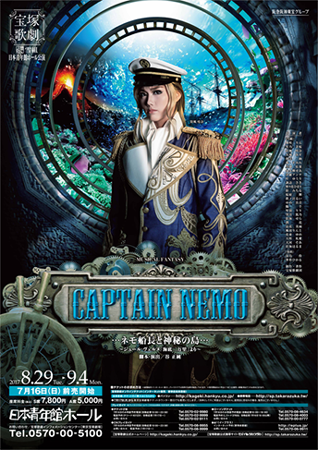 Picture Credit: coeuraubonheur | Official Chirashi
English Title:
CAPTAIN NEMO ... Captain Nemo and the Mysterious Island
Japanese Title:
『CAPTAIN NEMO』…ネモ船長と神秘の島…
Romanized Title:
『CAPTAIN NEMO』…Nemo-senchou to Shinpi no Shima…
Troupe:
Snow
Year:
2017
Performances:
Nippon Seinenkan, 08/29 - 09/04; Theater Drama City, 09/16 - 09/24
Based On:
Jules Verne's novel, "Twenty-Thousand Leagues Under The Sea"
Author / Director:
Tani Masazumi
Composer:
Yoshizaki Kenji
,
Ueda Hironori
Choreographer:
Shou Sumire
,
Miori Yumino
Available on Blu-Ray:
Yes (
release date 12/08/22
)
Available on DVD:
Yes (
release date 12/08/17
)
DVD Scene/Music Cuts:
No
Other Cast:
Kotohane Riri
,
Mochizuki Atsuno
,
Suzuhana Miu
,
Mareha Rinto
Hanataba Yume
,
Amasaki Rea
,
Taiga Soa
, and
Soumi Haruma
.
WARNING!! MAY CONTAIN SPOILERS!!
The same Captain Nemo who appeared in Jules Verne's marine science fiction novel "Twenty-Thousand Leagues Under The Sea," this is a musical fantasy that paints a new picture of the solitary hero who dares to challenge nations seeking colonial rule with his submarine,
Nautilus
.
In the mid-19th century, since British whaling vessels were constantly becoming shipwrecked in the South Atlantic Ocean near the South Sandwich Islands, sailors feared those waters to be cursed. The British government invited scholars to organize research teams and dispatched fleets to the South Atlantic. However, once they approached the cursed waters, the fleet exploded and one by one each ship sank to the bottom of the sea. A few scholars narrowly escaped on a lifeboat and made it to an island not on the map. Despite being in a cold region where plants do not grow, the island is mild due to geothermal energy from the submarine volcanic zone. Utilizing geothermal power to generate eletrical equipment, it appears to be more developed than anywhere else in the world. The island's inhabitants are from all over — Eastern Europe, Asia, and Africa — and had escaped the colonial rule of the empire. The leader of the island is Captain Nemo, of the submarine
Nautilus
, a highly capable physicist. Although he is silent and shrouded in mystery, the islanders have faith in him. However, the research team comes to learn the island's secret as well as the home country. In order to protect the islanders, Captain Nemo daringly confronts the enemy's fleet in
Nautilus
...
Aloof and despising conflict, Captain Nemo tries to create a paradise on earth with his rare intellect. And a female researcher takes a liking to him.
Any other interesting or important stuff.
None yet.
| | | | |
| --- | --- | --- | --- |
| Poster | DVD | VHS | CD |
| None Yet | None Yet | None Yet | None Yet |