Anaji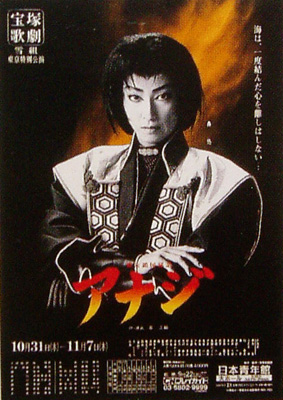 Picture Credit: Your wikiname
English Title:
Anaji
Japanese Title:
アナジ
Troupe:
Snow
Year:
1996
Performances:
Bow Hall, 10/12 - 10/26; Nippon Seinenkan Hall, 10/31 - 11/7
Based On:
Author/Director:
Tani Masazumi
Composer:
Miyahara Tooru
,
Odakane Bonpei
Choreographer:
Nishizaki Mayumi
,
Kurotaki Tsukio
Available on DVD:
No (VHS only)
† Performed by
Aomi Taku
after
Ayabuki Mao
was injured during the Bow Hall run.
WARNING!! MAY CONTAIN SPOILERS!!
A tragic romance set on an enormous scale as the crew of the Gurenmaru travels between Nagasaki, Hirado, the Gotou Islands, and Ryuukyuu in pursuit of their dreams under the Isolationist Policy of the Tokugawa Government.
1633. for seven years the ship the Gurenmaru has been running rampant over the south seas, but at last it returns to Hirado. Their captain is called "Anaji", named for the cold, dry winds which blow from the northwest. He is returned home with the ashes of his father, the previous captain of the Gurenmaru.
As the sailors are dancing boisterously at their first glimpse of home on the distant horizon, a Korean dancing girl named Yuqin escapes from where she was locked in the hold, but is quickly recaptured. Yuqin holds a violent hatred for Anaji, who sank the ship carrying her delegation and stole her chastity. Telling her to hold onto that hatred to sustain her, Anaji sets her adrift in a small boat.
At that moment they can hear an explosion reverberate from the harbor and a Satsuma vessel goes up in flames. The man who set the ship alight, Blowfly, forces his way onto the Gurenmaru while fleeing from pursuers. Anaji shelters him, and when he meets the government officials, he declares that he is the nephew of Matsuura Takanobu, lord of Hirado, and requests an audience. However, according to the Isolation Policy announced that year, Japanese who have been living overseas for more than five years are not permitted to return to Japan.
Stricken with anger and grief over having no place of refuge, Anaji and his men hide themselves on a small island in the Gotou Islands which is home to Clandestine Christians, such as Hiradoya Ichiemon, a foreign trader. Waiting for his chance, Anaji continues to ask for an audience with his uncle. Living on the island is Maria Sawa Christel, only daughter of a family destroyed by the persecution of Christians, and a Dutch boat captain.
Anaji brings Blowfly and Hayato with him to a reunion with his uncle arranged by Ichiemon, where they request permission to return to Japan. But Takanobu arrests Anaji, accusing him of being just like his mother, who dirtied the family name by running off with a samurai of the Imperial court. Moreover, Anaji hears that his younger sister Yuzuki's whereabouts are unknown. Unable to fight back, Anaji is rescued by Blowfly and Hayato. Amidst the heroic sword fight, Blowfly is wounded and Anaji, shot, falls into the sea.....
Any other interesting or important stuff.
None yet.
| | | | |
| --- | --- | --- | --- |
| Poster | DVD | VHS | CD |
| None Yet | None Yet | None Yet | None Yet |