Alcázar ~Royal Castle~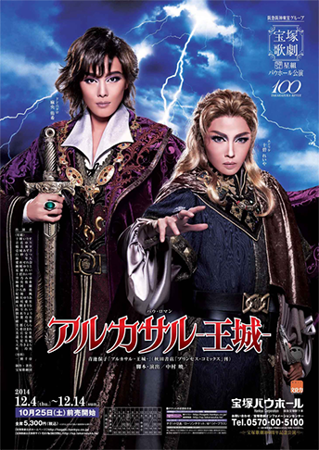 Picture Credit: coeuraubonheur | Official Chirashi
English Title:
Alcázar ~Royal Castle~
Japanese Title:
アルカサル ~王城~
Romanized Title:
Alcazar ~Oujou~
Troupe:
Star
Year:
2014
Performances:
Bow Hall, 12/04 - 12/14
Shinjin Kouen Performances:
n/a
Based On:
Aoike Yasuko's comic Alcazar ~Oujou~
Author/Director:
Nakamura Satoru
Composer:
Nishimura Kouji
,
Kuratomi Shinichi
Choreographer:
Conductor (Takarazuka):
n/a
Conductor (Tokyo):
n/a
Available on DVD:
No
Available on Blu-Ray:
No
DVD Scene/Music Cuts:
n/a
Role
Cast
Enrique de Trastámara aka Henry II of Castile (Don Pedro's rebellious half-brother)
Toa Reiya
Don Pedro aka Peter of Castile (King of Castile)
Mao Yuuki
María de Padilla (Don Pedro's wife/mistress)
Hinami Fuu
Juan Alfonso de Alburquerque (Chancellor of Castile)
Itsuki Chihiro
King Alfonso XI (Don Pedro's father, the former king of Castile)
Toki Irisu
Elene (Fernando's wife)
Otohana Yuri
King of Aragon (king of neighboring Aragon) / Doctor
Tsurumi Mayuu
Samuel ha-Levi (Don Pedro's chief financial officer)
Ichijou Azusa
Queen Maria (dowager queen, Don Pedro's mother)
Shirotae Natsu
de Lara (Castilian nobility)
Kai Hayato
Juana (Rodriguez's sister)
Aimi Serena
Juan Fernández de Henestrosa (Maria's uncle, Don Pedro's retainer)
Seki Yurito
Cabeza (de Alburquerque's retainer)
Natsuki Rei
Eleonora de Guzman (King Alfonso's mistress, Enrique's mother)
Sorano Miyu
Fadrique (Enrique's younger twin brother)
Hyuuga Ran
Fernando (Prince of Aragon, Don Pedro's cousin)
Hiroka Yuu
Rodriguez (Castilian nobility)
Seo Yuria
Blanche of Bourbon (legal wife of Don Pedro)
Kisaki Airi
Catalina (Enrique's sister, Rodriguez's wife)
Gojou Marina
Diego (Maria's brother, Don Pedro's retainer)
Takuto Rei
Carillo (Enrique's retainer)
Asamizu Ryou
Martin Rojas (Dowager Queen Maria's friend)
Aya Ouka
Lady Elena (Maria's lady attendant)
Mito Kurara
Pedro as a child
Amano Kiyora
Other Cast:
Iroha Reo
,
Amaki Homare
,
Mioka Anri
,
Haruto Yuuho
,
Nanase Miki
,
Hayato Reo
WARNING!! MAY CONTAIN SPOILERS!!
Spain at the end of the 14th century. This is the tale of the bitter struggle between half-brothers Don Pedro and Enrique of Castile. Don Pedro became King of Castile in 1350 at the age of 15 when his father died in battle.
Any other interesting or important stuff.
None yet.
| | | | |
| --- | --- | --- | --- |
| Poster | DVD | VHS | CD |
| None Yet | None Yet | None Yet | None Yet |