Sou Kazuho - So! Fantastic Radio Station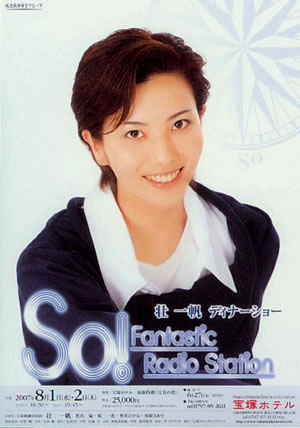 Picture Credit: takarazuka
English Title:
Sou Kazuho Dinner Show - So! Fantastic Radio Station
Japanese Title:
壮一帆ディナーショー - So ! Fantastic Radio Station
Romanized Title:
Sou Kazuho Dinaa Shoo - So! - Fantastic Radio Station -
Troupe:
Flower
Year:
2007
Performances:
Takarazuka Hotel, 08/01 - 08/02; Daiichi Hotel Tokyo, 08/04 - 08/05
Director:
Nakamura Satoru
Sou Kazuho
Supporting Cast
Yuuma Rin
Sakura Ichika
Hanagata Hikaru
Hatsuhime Saaya
WARNING!! MAY CONTAIN SPOILERS!!
Move
One night only
I Am So-Kazuho
(from I Am Aldolpho)
My Favorite Things
Lullaby Of Birdland
My Funny Valentine
C'est Magnifigue
Padam Padam
Rojo Y Negro
Uno
On The Street Where You Live
Stage (Takarazuka Medley)
La Vie! (Takazuka)
Kokoro No Shiroi Bara ("Rose of Versailles:Oscar".National Tour.2006)
Tsuioku ("DAYTIME HUSTLER".Bow+Tokyo.2005)
Ai Moeru ("Ai Moeru".Takarauzuka.2001)
Imitation Dream ("Takarazuka's Dream Kingdom".Takarazuka.2004)
El Tango Argentino ("Tango Argentino".Takarauzuka.1999)
Karipuso ("Tarantella!".Takarazuka.2006)
The End of Roaming ("The End of Roaming".Bow.2005)
Endless Love
Ain't No Mountain High Enough
Nothing Can Change This Time (Original song)
Caucasus's Blue Sky ("The Letter That Was Never Sent".Bow+Tokyo.2004)
Any other interesting or important stuff.
None yet.
| | | | |
| --- | --- | --- | --- |
| Poster | DVD | VHS | CD |
| None Yet | None Yet | None Yet | None Yet |