Singin' in the Rain (Cosmos 2008)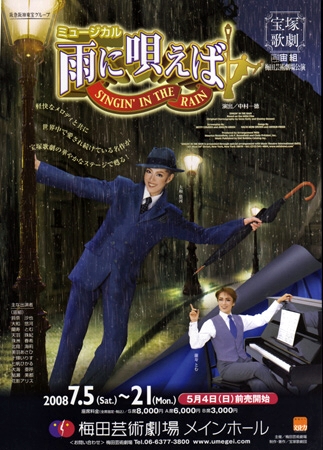 Picture Credit: Zephy
English Title:
Singin' in the Rain
Japanese Title:
雨に唄えば
Romanized Title:
Ame ni Utaeba
Troupe:
Cosmos
Year:
2008
Performances:
Umeda Arts Theater, 7/5 - 7/21
Based On:
the MGM Film
Singin' in the Rain
Author:
Screenplay and Adaptation Betty Comden and Adolph Green
Director:
Nakamura Kazunori
Composer:
Nacio Herb Brown and Arthur Freed
Choreographer:
Twyla Tharp
Available on DVD:
Yes (
release date 10/05/08
)
DVD Scene/Music Cut:
None
Others:
Kazahane Reia
,
Koumi Maito
,
Hanasato Mana
,
Tenrei Mion
,
Shizaki Hiroka
,
Ayase Akina
,
Souma Neo
,
Momochi Ito
,
Amaki Tonika
,
Sahane Yuna
,
Yumeri Miko
,
Sorahane Riku
,
Yuino Kanari
,
Aizuki Hikaru
WARNING!! MAY CONTAIN SPOILERS!!
Don Lockwood and Lina Lamont are the apple of Hollywood's eye, and the hot news in all the gossip rags, but the reality is very different from what they portray on screen. Lina is actually a selfish, scheming woman, living in the dream world of the gossip magazines where she is Don's fiancee. Don also tends to let his popularity go to his head, although he has his old friend Cosmo to keep him grounded. One night while fleeing some over-zealous fans, Don meets Kathy Selden. Kathy doesn't like his self-assured attitude, and says several biting comments to cut him down to size before leaving.
Don takes her comments to heart, and begins to doubt whether he is a good actor or not. At a party to celebrate Don and Lina's newest film, Kathy appears from a cake, showing that she wasn't the stage actress she had claimed to be. Don teases her, and in her anger, Kathy accidentally smashes a cake into Lina. Lina causes her to lose her job. Don searches her out and finds her now working in his movie company! The two reconcile and Don begins to win Kathy over.
Meanwhile, Hollywood is being swept with a new sensation: talking films. These "talkies" have become a huge hit, and R.F. is determined that his film company will join the game. Unfortunately, Lina's voice makes her an impossible choice for a screen actress, and an early preview of Don and Lina's movie is a laughing stock. Don, Cosmo, and Kathy have a late-night brainstorming session, and decide to change the film into a musical. Kathy agrees to dub over Lina's voice for this one movie.
Lina finds out about the secret arrangement and uses a sub-clause of her contract to trap R.F. into agreeing to make Kathy her dubbed voice forever, with the other woman never getting any acknowledgment. Kathy finds out about this at the premiere of the new movie. But Don and Cosmo have a plan to embarrass Lina and rescue Kathy...
None yet.
| | | | |
| --- | --- | --- | --- |
| Poster | DVD | VHS | CD |
| None Yet | None Yet | None Yet | None Yet |