PR×PRince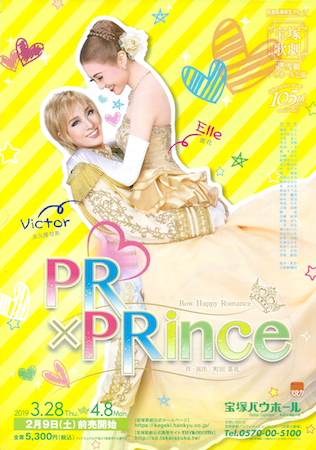 Picture Credit: Steerpikeangel | Official Chirashi
English Title:
PR×PRince
Japanese Title:
PR×PRince
Troupe:
Snow
Year:
2019
Performances:
Bow Hall, 03/28 - 04/08
Author / Director:
Machida Nanoka
Composer:
Choreographer:
Available on Blu-Ray:
Yes (
release date 07/08/22
)
Available on DVD:
No
DVD Scene/Music Cut:
No
Role
Cast
Victor, the eldest prince of Pecchieno; for certain reasons he always wears glasses
Towaki Sea
Elle, a scientist; joined Victor's research group to resolve environmental pollution issues
Jun Hana
Queen Beatrice, the queen of Pecchieno
Maisaki Rin
King Anselm, the king of Pecchieno
Souno Haruto
Alice, Victor's nursemaid
Sahana Mako
Rose, aide to Lily, the queen of Grande
Shouno Chio
Garrett, Lily's right-hand man
Kiraha Reo
Lily, the queen of Grande; also holds control of the government
Ai Sumire
Mary, a maidservant
Shiramine Yuri
Pamela
Himehana Yukino
Caspar
Kanou Yuuri
Valentin, the second prince of Pecchieno
Aya Ouka
Diana, Valentin's first love(?)
Seina Nozomi
Shadow / Edward
Houka Haruna
Marie, Lily's younger sister
Irodori Michiru
Grace
Kirara Umi
Arnold
Shiose Kazami
Damian
Yume Maoto
Will
Hiyori Haruma
Valteri, the third prince of Pecchieno
Ayami Sera
Elias
Ichika Ao
Other Cast:
Kotohane Riri
,
Arisu Himeka
,
Mayuzuki Rea
,
Suzuhana Miu
,
Kohaku Reira
,
Soumi Haruma
,
Rina Kurumi
,
Chihaya Mao
,
Aoha Reiya
WARNING!! MAY CONTAIN SPOILERS!!
"They have a grand history, but they don't have any money!" Such is the historic little country Pecchieno.
Their prime minister, after struggling with this problem, has hit on the plan of an immense PR campaign to save the country from its financial difficulties… which is to host a highly publicized national tour featuring the three handsome princes, with the oldest prince, the protagonist, at their head, as well as holding a banquet to find wealthy heiresses for the princess to marry.
Although the first prince is extremely attractive, due to a certain situation he has been hiding this. However, in order to save his country, he'll put his beauty to use in this grand PR strategy!!
Set in a fictional country, this heartwarming musical comedy tells the love story of the prince as he struggles to save his country.
Bow Hall debut production for director Machida Nanoka.
None yet.
| | | | |
| --- | --- | --- | --- |
| Poster | DVD | VHS | CD |
| None Yet | None Yet | None Yet | None Yet |