One More Time!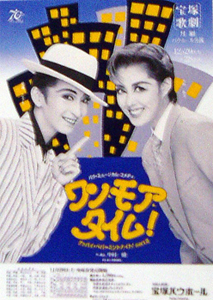 Picture Credit: Caithion
English Title:
One More Time! ~Goodbye Peppermint Night! Part II~
Japanese Title:
ワン・モア・タイム! ~グッバイ・ペパーミントナイト!partII~
Romanized Title:
Wan Moa Taimu! ~Gubbai Pepaaminto Naito! part II~
Troupe:
Moon
Year:
1997
Performances:
Bow Hall, 12/20 - 12/28
Based On:
Author/Director:
Nakamura Satoru
Composer:
Terada Takio
,
Yoshida Yuuko
Choreographer:
Hayama Kiyomi
,
Wakao Risa
Available on DVD:
No (VHS only)
Other Cast:
Honami Aria
,
Kitajima Mami
,
Nana Marika
,
Kou Suzuka
,
Isshiki Ruka
,
Madoka Sakura
,
Ayadori Kanna
,
Ken Ruisu
,
Takaki Amane
WARNING!! MAY CONTAIN SPOILERS!!
Modern-day America, The east coast. Louis, who has just graduated from prestigious Harvard University, is cutting a new start as a manager in his father's company, and also having smooth sailing with his lovely, talented and honorable fiancee, Marjorie. However, when Louis father becomes ill and passes away, the director Leinster high-jacks the company and drives Louis out without a penny.
While burned-out and drunk, Louis runs into three members of the Black Peppermint Gang, and taking him for their kingpin's son Mario, they bring him back to the Family. The gang members are riled up, but one of their leaders, Rosebud, realizes Louis isn't Mario.
At that point Elder Chen, an old friend of the Family's kingpin, Marcello, arrives with his grandson Little Chen, and tells them that his granddaughter has been kidnapped by their long-time rivals, the Red Onion Family. Believing that Mario has returned and animated by the news, the members of the family prepare to set out on a rescue
en masse
. Watching them, Louis thinks, "If they go out like this they're done for..." and resolves to become Mario in order to confront the Red Onions....
None yet.
| | | | |
| --- | --- | --- | --- |
| Poster | DVD | VHS | CD |
| None Yet | None Yet | None Yet | None Yet |