Now's The Season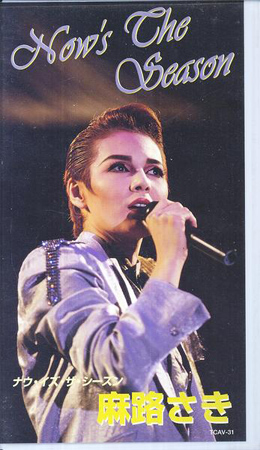 Picture Credit: Fyre
English Title:
Now's The Season
Japanese Title:
ナウ・イズ・ザ・シ-ズン
Romanized Title:
Nau Izu Za Shiizun
Troupe:
Star
Year:
1996
Performances:
Palace Hotel, 9/12 - 9/13; Hotel Hankyu International, 9/17 - 9/18
Director:
Masatsuka Haruhiko
Conductor:
Takahashi Kuni
Available on DVD:
No (VHS only)
Asaji Saki
Supported by
Shiraki Ayaka
Hazumi Rui
Mizuhara Madoka
Miya Erika
The show opens with the Musumeyaku singing 'Watashi', all looking very glamorous.
Asaji Saki
enters in a spangly suit of spangliness singing 'I Just Called to Say I Love You" but once she reaches the stage, the silliness begins.
Her costume, it is decided, isn't right, so
Shiraki Ayaka
instructs her juniors to bring out the new wardrobe selection, and in a matter of minutes, Saki is shoved into a bull-fighting costume, complete with the silly hat. However, this allows for a Latin section, including the songs 'Granada' and 'The Toreador's Song' from Carmen.
Further costume criticisms are made and while Shiraki disappears to shed her Spanish flamenco dress, Saki is shoved into what is recognisable as a Habsburg military Uniform. Shiraki runs back on in delight with a cry of "Rudolf!" and they proceed to spoof the death scene of
Ephemeral Love
in the funniest possible way. Including an obliging little musume shoving a gun into a startled Rudolf's hand and Mary Vetsera with an Uzi.
Another costume change is called for, with a polka-dot coat, which inspires Shiraki to a musical section, beginning with Phantom of the Opera, which doesn't go as well as planned as one of the back-up musume tries to lunge in to stick a mask on Saki. It transposes into 'Shall We Dance?', and the same little musume tries to stick the Yul Bryner-style bald head on Saki, who flails and runs off-stage. The girls then proceed to sing the whole song in English.
The following songs ('Sentimental Journey' and 'Route 66') feature a prop, which starts life as an oversized Yves Saint Laurent travelling bag, and is by degrees turned into a car with a pop-up wind-screen, and after the fantastic 'City Lights' song and dance routine is turned into horse, with YSL logos all over its head and tail, for 'South of the Border'. A dance-bout ensues with 'Samba Brazileira', then Mariko talks to the audience while singing 'Holding Out for a Hero'.
It is followed by the opening scene from
Who is Bad?
, with some adlibs and mischievous facepulling from Mariko, who proceeds to wander through the audience, singing. She returns to the stage to duet on another 'Who Is Bad?' song with Shiraki, then decides she wants to show off Shiraki's talent, which results in them duetting on a Bach minuet, with Mariko on keyboard and Shiraki on flute. Not that it goes smoothly at first thanks to Shiraki's attacks of bashfulness.
Shiraki then performs 'The Power of Love', while Mariko has two minutes off-stage to recover and costume change again for the TV theme tunes medley (that's my best guess at what it was, since it had cartoon themes and Mariko singing Sesame Street's theme) with the three younger musumeyaku. Mariko then performs 'All By Myself' and slips away, before the girls return for a reprise of 'Watashi' and then, there is a last group number of 'Hush, Hush, Sweet Charlotte'.
Any other interesting or important stuff.
Fyre's review
| | | | |
| --- | --- | --- | --- |
| Poster | DVD | VHS | CD |
| None Yet | None Yet | None Yet | None Yet |