Jirokichi of the Wind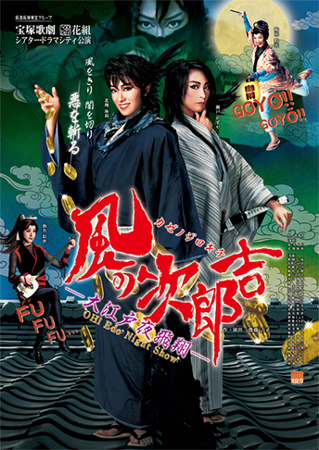 Picture Credit: coeuraubonheur | Official Chirashi
English Title:
Jirokichi of the Wind ―Night's Flight Over Edo―
Japanese Title:
Oh! Edo Night Show 『風の次郎吉 ―大江戸夜飛翔 ―』
Romanized Title:
Kaze no Jirokichi ―Oo-Edo Yahishou―
Troupe:
Senka/Flower
Year:
2015
Performances:
Theater Drama City , 01/04 - 01/12; Nippon Seinenkan, 01/21 - 01/26
Based On:
The life of Nakamura Jirokichi (Nezumi Kozō)
Author/Director:
Saitou Yoshimasa
Composer:
Aoki Tomoko
Choreographer:
Hanayagi Juraku
,
AYAKO
Available on DVD:
Yes (
release date 04/14/2015
)
DVD Scene/Music Cuts:
No
WARNING!! MAY CONTAIN SPOILERS!!
At the end of the Edo Period, there was a legendary chivalrous thief who stole from rich merchants and self-serving samurai and gave to the virtuous people of the town. His name was Nezumi-kozo (Rat Boy) Jirokichi.
This musical is about how he competed with and was friends with the hero of so many period dramas (Touyama Kinshiro), and about the loves they surrounded themselves with in the new and progressive Japan. A Takarazuka take on the tale of Nezumi-kozo.
None yet.
| | | | |
| --- | --- | --- | --- |
| Poster | DVD | VHS | CD |
| None Yet | None Yet | None Yet | None Yet |