Cinderella Rock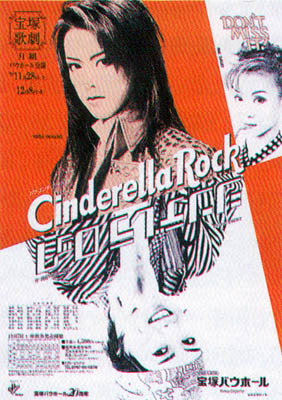 Picture Credit: Caithion
English Title:
Cinderella Rock
Japanese Title:
シンデレラ・ロック
Romanized Title:
Shinderera Rokku
Troupe:
Moon
Year:
1998
Performances:
Bow Hall, 11/28 - 12/8
Based On:
The Cinderella fairy tale
Author/Director:
Ueda Keiko
Music:
Yoshida Yuuko
,
Kai Masato
Choreography:
Masaki Rino
,
Miori Yumino
,
Aoki Miho
Available on DVD:
Yes
(release date 7/20/07)
DVD Scene/Music Cut:
Yes
The musical bits of Act II scene 3 have been removed.
Other Cast:
Suzuna Mio
,
Akane Mitsuki
,
Takigawa Sueko
,
Chigusa Kotomi
,
Madoka Sakura
,
Ken Ruisu
,
Takaki Amane
,
Natsume Rin
,
Fuuga Minato
WARNING!! MAY CONTAIN SPOILERS!!
Cydo's father Mickey has passed away, leaving Cydo's step-mother in charge of the music company MOM (Magic of Music). The evil step-mother has Cydo doing menial jobs around the company, and refuses to help the young man make a debut album. Instead, she uses all of her influence to promote her two foppish, good-for-nothing sons, Donny and Alex.
There is going to be an audition for a band for the famous idol Madonna Carey, and Cydo asks his step mother for help to pay the auditioning fee. Although she agrees to help him, instead she steals the song "Cinderella Rock" that Mickey left his son and gives it to her own sons to perform at the audition. Not knowing this, Cydo and his friends celebrate a merry Christmas. While they are celebrating, a homeless man shuffles into Guille's father's restaurant and tries to steal a taco. Everyone wants to throw him out, but Cydo convinces them to give the familiar-looking man some of the left-over food.
He later realizes who the man was — a famous musician named Al who was an old friend of his father's, and chases after him. Al had dropped out of the music scene and disappeared almost ten years ago, and Mickey and Cydo had been worried. Cydo and Al talk, and Cydo talks about his dreams and love of music to the dispirited, cynical man.
Cydo himself is crushed a few days later when he realizes his step-mother had lied to him. He finally loses his last hope. Al finds him at home, and when he hears his story, tells him to gather his friends and meet him near the Chinese Theater. Once there, he pulls out an audition card which he has finagled from an old friend i nthe business. But before letting the boys run to the audition, he drags them into the shop of another old friend. Louis rents out costumes and clothing, but he warns the boys that they need to return the clothes by midnight, or there will be a $200 fine.
At the audition, Madonna is less than impressed by the two brothers, and pulls the plug before they can play a single note. Suddenly, the last performers burst onto the stage, and Cydo and More Dreams impresses everyone. Madonna gets Cydo to lead her outside so that she can get a smoke. Out there, the two clash, as Madonna's cynical "business" sense and Cydo's idealism strike sparks. Cydo finally breaks through her shell as he tells her about his father and himself. Madonna is tired of being a puppet, tired of singing the same songs over and over again. But midnight strikes, and Cydo's friends drag him away so that they can return their costumes. Cydo drops a glass ring his father had given him which says "Magic of Music", and Madonna picks it up after he is gone.
Later, Madonna tracks him down at his amusement park job and tells him she'll return the ring if he takes her away. He asks her where she wants to go, and she says some place where no one will recognize her. He suggests a deserted island, but she wants someplace more romantic... like the moon. Cydo impetuously drags her off to the moon... which is the ET attraction ride. The two talk, and again Madonna is stung by Cydo's optimism. Instead of returning the ring, she throws it violently away. She demands to know why he has been so kind to her. He replies that he has fallen in love with her, which only upsets her more, and she leaves.
Because of their TV appearance at the auditions, requests have been coming in to the MOM company like crazy for Cydo and his band. His step-mother still refuses to produce his debut album. Suddenly, a lawyer appears. It is Cydo's 21st birthday, and when he turns 21, his father's will states that the company will go to him. The only provision is that Cydo must track down a girl known only as Ella and produce her debut album. Ella, Cydo learns while reading his father's diary, sent in a demo tape to Mickey with a song called "Magic of Music", which Mickey loved. But Mickey was not able to help the girl debut.
Cydo employes his friends to help him track down both Madonna and Ella, but has no luck with either. The next day auditions are to be held. Suddenly, some time past midnight, a quiet voice calls out, "Ella"....
Any other interesting or important stuff.
Cinderella Rock - Review by Ekusudei
| | | | |
| --- | --- | --- | --- |
| Poster | DVD | VHS | CD |
| None Yet | | None Yet | None Yet |