Utsumi Shigenori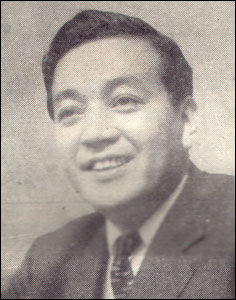 Picture Credit: High School Kids / Tanuki Goten Program (1958)
Standard Profile Information
Name:
Utsumi Shigenori
Kanji:
内海重典
Position:
Director / Playwright
Former Takarasienne:
No
Height:
Birthday:
November 10, 1915
Death:
March 1st, 1999
Blood Type:
Hometown:
Osaka
Hobbies:
First Takarazuka Work:
1941
Takarazuka Princess Kaguya
(Joined in Feb. 1939)
Projects Directed by Utsumi Shigenori
Joined the Revue in 1939.
Husband of former Takarasienne Kako Machiko (28th class).
Was one of the three most famous Takarazuka directors in 1950'es-60'es, along with Takagi Shirou and Shirai Tetsuzou.
Was one of the first directors to use dry ice to imitate smoke and fog on stage, and also the first to use wireless microphones.