The Treasure Sword of Habsburg / BOLERO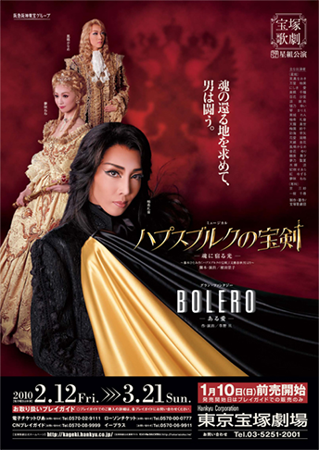 Picture Credit: coeuraubonheur | Official Chirashi
English Title:
The Treasure Sword of Habsburg -Candle in Your Mind- / BOLERO -A Certain Love-
Japanese Title:
「ハプスブルクの宝剣 -魂に宿る光-」/「BOLERO」-ある愛-
Romanized Title:
Hapusuburuku no Houken -Tamashi ni Yadoru Hikari- / BOLERO -Aru Ai-
Troupe:
Star
Year:
2010
Performances:
Takarazuka Grand Theater, 01/01 - 02/01; Tokyo Takarazuka Theater, 02/12 - 03/21
Shinjin Kouen Performances:
Takarazuka Grand Theater, 01/19; Tokyo Takarazuka Theater, 02/25
The Treasure Sword of Habsburg:
Based On:
"The Treasure Sword of Habsburg" by Fujimoto Hitomi (novel)
Author/Director:
Ueda Keiko
Composer:
Kai Masato
Theme Song Composer:
Sylvester Levay
Choreographer:
Miori Yumino
Conductor (Takarazuka & Tokyo):
Misaki Megumi
Shinjin Kouen Director:
Noguchi Kousaku
Bolero:
Author/Director:
Kusano Akira
Composer:
Takahashi Kuni
,
Oota Takeshi
,
Takahashi Megumi
Choreographer:
Hayama Kiyomi
,
Miori Yumino
,
Wakao Risa
,
Masaki Rino
Conductor (Takarazuka):
Ooyagi Yasushi
Conductor (Tokyo):
Kiyokawa Tomomi
Available on DVD:
Yes (
release date 03/18/2010
)
DVD Scene/Music Cuts:
None
(Note: The role descriptions right now are based on the novel and may very well change in the final Takarazuka version.)
Other Cast:
Kawai Mizuho
,
Otohana Yuri
,
Hisaki Seara
,
Hanasono Miyuu
,
Asato Mao
,
Aimi Serena
,
Shizuki Otone
,
Wakanatsu Ayame
,
Shirayuri Hime
,
Sorano Miyu
,
Yumeshiro Eren
,
Tamahana Yufu
,
Oushina Yuu
,
Sayaka Shion
,
Marina Mayu
,
Hyuuga Ran
,
Shouma June
,
Hinatano Karin
,
Hinami Fuu
,
Murasaki Rira
,
Outsu Risa
,
Ouzuki Akari
,
Mai Hinano
,
Seo Yuria
,
Renju Kouki
WARNING!! MAY CONTAIN SPOILERS!!
The Treasure Sword of Habsburg
(Summary from Official Website)
The first half of the 18th century in Europe. Eliyahu Rothschild is born and raised in the Jewish quarter of Frankfurt. He harbors a hugely ambitious desire to make a better future for himself as well as for the Jewish people, with their history of persecution and discrimination. Eliyahu, who has graduated from a university in Padova, carries with him a revolutionary way of thinking with the aim of elevating the social status of the Jews. He returns to a synagogue in his hometown where his fellow Jews gather. However, his ideas face sharp refusal from the other Jews, as they stick to their convention of exclusivity. Unappreciated by everyone and in a state of despair, Eliyahu heads toward the Alte Bridge, where he meets Adelheid. From the time of his university years, the couple had given their hearts to each other. They each confirm their love for each other. But Adelheid, who is from a bourgeois family, already has a fiancé chosen by her parents, a man named Moritz. Moritz finds out about the couple and challenges Eliyahu to a duel. As a result, Eliyahu is reluctantly forced to kill him.
Time is an encounter: In Vienna Charles VI has made Francis Stephen (Franz), ruler of the duchy of Lorraine, his son-in-law after arranging his marriage to his eldest daughter, Maria Theresa (Therese), so that the Habsburg Empire, the leading power in Europe, can continue its reign. One day, a young man of outstanding bravery and wisdom, capable of defending the Habsburg Empire, is presented to Charles VI. He is Eliyahu, who has put his entire past behind him, and is now known as Eduard von Autheville. His ties with his Jewish background are broken. In his flight from danger, Eliyahu is saved by Jaeckin, a close aide to Franz, and miraculously escapes death. Knowing the background of Eliyahu's birth, Franz employs him as a subject, providing him with a new life under the name of Eduard. At the time of his marriage to Therese, Franz was required to relinquish his hold on the territory of Lorraine as a matter of foreign policy. After a period of anguish, Franz chooses to marry the woman he loves, Therese, and decides to spend his life at the imperial court of another country. With no other place to return to, he feels an affinity with Eduard. Eduard also is determined to become a true Austrian in Vienna, just as his benefactor Franz has done.
When Franz introduces Therese to Eduard, he receives a shock when he sees her face. She is identical to Adelheid, from whom he was so cruelly separated at the Alte Bridge. Eduard, who expected to be able to erase the memories of the past, is now experiencing a violent trembling of his heart. As for Therese, she is stirred by an uncomfortable premonition and keen interest when she notices a burning fire intensely in Eduard's eyes. Charles VI finally passes away, and Therese inherits the vast Habsburg territory. The emergence of a young female monarch sends shock waves throughout Europe. The other major powers, which have been aiming to expand their territories, at once exert pressure on Austria. Yet Vienna's imperial court has no one to rely on but its old subjects, who are slaves to convention. Franz believes that Eduard's power is now needed more than ever. Austria is surrounded on all sides by adversaries, and in order to extricate it from this situation, Eduard comes up with a clever scheme to forge an alliance with Hungary, which has been resisting many long years of Habsburg reign. Despite the bitter response from those around him, he succeeds admirably in gaining the cooperation of Gregor Batthyány, a Hungarian aristocrat, and his aides.
Thanks to Eduard's efforts, Therese manages to obtain the cooperation of Hungary. As the Queen of Hungary, she engages in negotiations with the country's aristocracy. While Therese needs Eduard, she also can't approve of him, while Eduard is caught in a bind between her and Franz. Eduard tells Franz that he would like to get out of Vienna for a while. Following enlistment in the Austrian army, Eduard moves from place to place. In Prague , he encounters some Jews who are being banished from the town. For all the fighting he has done for the Habsburg Empire, he still cannot find a place to call home and can never make a break from his past...Eduard drifts along, as he seeks a spiritual anchor. Where will he go, and what kind of light will he discover at the end of the tunnel?
---
BOLERO
Bolero is a 3/4 Spanish music and dance, and a musical theme much loved by the people of Japan. A revue show which rides on the sweetness, mystique, intensity, and passion of bolero to wondrously paint the love of a man and a woman. A wide range of music (including non-bolero) will be used, and dignified scenes based on classic arts, scenes which express the primitive image of wild Africa, etc. will develop varied charms brightly, tempestuously, and beautifully.
Sumire Style Stage GRAPH
Asahi Stage Gallery
None yet.
| | | | |
| --- | --- | --- | --- |
| Poster | DVD | VHS | CD |
| None Yet | None Yet | None Yet | None Yet |