Sunset of the Forbidden City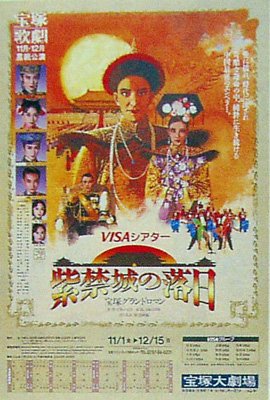 Picture Credit: Caithion
English Title:
Sunset of the Forbidden City
Japanese Title:
紫禁城の落日
Romanized Title:
Shikinjou no Rakujitsu
Troupe:
Star
Year:
1991-92
Performances:
Takarazuka Grand Theater, 11/1 - 12/15; Tokyo Takarazuka Theater, 3/5 - 3/31
Shinjin Kouen Performances:
Takarazuka Grand Theater, 11/19; Tokyo Takarazuka Theater, 3/17
Based On:
The life of last China emperor.
Author/Director:
Ueda Shinji
Composer:
Terada Takio
,
Irie Kaoru
,
Yoshida Yuuko
Choreographer:
Kita Hiroshi
,
Hayama Kiyomi
,
Kurotaki Tsukio
,
Shou Sumire
Conductor (Takarazuka):
Okada Yoshiki
,
Odakane Bonpei
Conductor (Tokyo):
Izawa Ichirou
,
Kiyokawa Tomomi
Shinjin Kouen Director:
Available on DVD:
Yes (
release date 12/20/08
)
DVD Scene/Music Cut:
None
Role
Cast
Shinko Cast
Sentou-tei Aishinkakura Fugi (Puyi), the last Emperor of China
Hyuuga Kaoru
Minoru Kou
Empress Enyou (Wanrong)
Marimo Eri
Ryou Akino
Aishinkakura Fuketsu (Pujie), Puyi's brother
Shion Yuu
Emao Yuu
Kouka (Heng Xiang), Enyou's mother
Konohana Sakuya
Mimi Anri
Yoshioka Yasunao (Kwantung Army lieutenant)
Asazuki Mario
Manaka Hikaru
Eigen (Yuan), Enyou's father
Hoshihara Misao
Kyougoku Ayano
Reika (Li Hua), lady-in-waiting
Kuni Natsuki
Takayagi Midori
Chin (Chen), eunuch
Hayama Michiko
Nanki Chihiro
Okaezo Youji (jazz band leader)
Itsuki Chihiro
Saegusa Mizuki
Tankyou (Duan Gong), Bunshuu's brother
Natsumi You
Kouki Subaru (Grand Theater)
? (Tokyo)
Lieutenant Miyada / Ryu (Long), inspector
Marimura Nao
Inumaru Akihiko (jazz singer, Okaezo's friend)
Senju Hikaru
Miyabi Kei
Yanagiba Toshiko (jazz singer)
Shima Yuuka
Tomo Maika
Etoile
Shima Yuuka
Eishou (Ying Shao), Bunshuu's sister
Agi Katsura
Sagikusa Kaoru
Muromachi Kyou (jazz singer)
Ema Naoki
Yoshizumi Jirou (jazz singer)
Kinami Chie
Joujou (Niang Niang), lady-in-waiting
Matsubara Midori
Nijou Yuzuru
Meigyokukin (Mei Yuqin), Chinese intelligence member
Izumo Aya
Maiji Haruka
Bunshuu (Wenxiu), Puyi's second wife
Hanabusa Rio
Marisa Hitomi
Renren (Lian Lian), lady-in-waiting
Asaoka Nari
Migusa Yuu
Captain Matsukawa
Uzuki Kei
Lieutenant Takebe / Kan (Guan), inspector
Chiaki Shin
Kuraishi Shingo (Japanese military adviser)
Asaji Saki
Kanda Tomo
Shimojou Fumiko (jazz singer)
Hagoromo Ran
Rinrin (Lingling), lady-in-waiting
Mari Yuzumi
Ranran (Lanlan), lady-in-waiting
Tomo Maika
Kondou Yoshinari (jazz singer)
Saegusa Mizuki
Matsushita Masaru (jazz singer)
Minoru Kou
Captain Umino
Manaka Hikaru
Meimei, lady-in-waiting
Sagikusa Kaoru
Yuuyuu (Yuyu), lady-in-waiting
Takayagi Midori
Sugimoto Tamotsu (jazz singer)
Miyabi Kei
Ookura Seiji (jazz singer)
Shijou Hikaru
Hon (Fan), inspector
Migusa Yuu
Machida Tetsuya (jazz singer)
Emao Yuu
Saga Hiro (Pujie's wife)
Shiraki Ayaka
Hoshina Yuri
Other Cast:
Otohara Ai
,
Sakaki Jun
,
Nishiki Ai
,
Shouno Saki
,
Nozomi Kei
,
Asao Ritsuki
,
Chitose Manabu
,
Ayaka Yuu
,
Kanou Chiho
,
Hozuki Mio
,
Mimi Anri
,
Machi Arisa
,
Shinobu Murasaki
,
Asukai Mari
,
Tachibana Hitomi
,
Kamiya Yuki
,
Kozuki Wataru
,
Jun Atsuki
,
Kujou Akira
,
Misono Erika
,
Mibae Yuuri
,
Ayato Rena
,
Oonatsu Shizuki
,
Hoshina Yuri
,
Suzuna Saya
,
Ryou Akino
,
Oka Kazumi
,
Manami Shiho
,
Oohiro Ayumu
,
Asamine Hikari
,
Takao Rio
,
Hanafusa Mari
,
Asamiya Mayu
,
Akira Kazuki
,
Shiratori Yurie
,
Hara Miteki
,
Asazora Riho
,
Hibiya Megumi
,
Kahou Yurika
,
Tsuzushiro Ai
Grand Theater only:
Hagio Hitomi
,
Machikaze Kana
,
Amachi Hikari
,
Kokonoe Haruka
,
Izumi Tsukasa
WARNING!! MAY CONTAIN SPOILERS!!
A dramatic and large scale production about the troubled life of Emperor Fugi (Puyi in English), last emperor of the Qing Dynasty. The story revolves around Fugi and his empress, Enyou, and Fugi's younger brother Fuketsu and his Japanese wife Hiro.
(from official booklet)
For three centuries the Manchurian Qing dynasty ruled all China. In 1911 the Xinhai Revolution toppled the Qing Empire and established the Republic of China. The kindness of Yuan Shikai, a revolutionary but a close friend of the Empress Dowager, Longyu, permitted the Imperial Court to survive intact within the confines of the Forbidden Palace (Shikinjou).
The Xinhai Revolution forced the abdication of the six-year old Emperor, Puyi, who had been on the throne for three years. Even though his Empire had disappeared, Puyi was raised in Imperial splendour and he desired to rule again. In 1922 Puyi married two women according to custom the First Empress, Wanrong, and the Second Empress, Wenxiu. Wanrong was a beautiful woman who had been given a modern, liberal education. The restrictions of court life were a burden to her and she couldn't tolerate the existence of a rival. Wenxiu detested Wanrong as much. She had been selected as a First Empress, but the Empress Dowager wanted her own niece, Wanrong, to reign as First Empress.
Puyi's younger brother, Pujie, studied military science in Japan and married a Japanese aristocrat, Hiro, the daughter of count Saga. Pujie returned to China with his bride but Puyi was enraged that his brother had flouted the marriage conventions by marrying outside of the Manchu race.
When the protector of the Imperial Court died, General Feng led an attack on the Forbidden Palace. The National Chinese Army demanded that the Emperor leave the Palace at once. Just then the Lieutenant General of the Japanese Kwantung Army Yoshioka Yasunao intervened and invited Puyi and his family to come with him to Manchuria. Puyi accepted the Japanese military's plan for him to reign over the Manchurian Empire.
Since Puyi was Manchurian he readily agreed to the offer of a new throne and the accession ceremonies were held at Changchun in Manchuria in 1934. Puyi finally had an Empire to reign over even though he was a figure-head ruler for General Yoshioka and Japanese government. Pujie, his wife Hiro and Wanrong were critical of the Emperor's relationship with the Japanese Army. Wanrong had turned to opium to forget her troubles.
In 1941 the Pacific War started. Although in the early stages the war was in Japan's favour it later seemed inevitable that Japan would be defeated. Even so Japan continued to fight after Germany and Italy had been defeated in Europe.
On August 9, 1945 the USSR declared was on Japan and invaded Manchuria. Yoshioka ordered that the capital had to be moved to Tonghua. Puyi asked Wanrong to come with him. Wanrong realized that due to her opium addiction she would only be a burden to the Emperor. Shw flew into a rage to make Puyi so disgusted that he would leave her behind. Puyi saw through the pretense and realized that the Empress truly loved him. But sadly he understood that it really was best to leave her behind in Changchun.
On August 15, Captain Kuraishi, a secret envoy from the Japanese Imperial Court, arrived with a plan to help Puyi and his family escape to safety in Japan. However, two days later the Soviet Army was closing on Tonghua...
None yet.
| | | | |
| --- | --- | --- | --- |
| Poster | DVD | VHS | CD |
| None Yet | None Yet | None Yet | None Yet |