Ocean's 11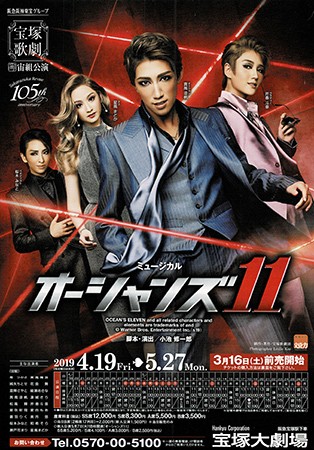 Scan from personal collection | Official chirashi
English Title:
Ocean's 11
Japanese Title:
オーシャンズ11
Romanized Title:
Ooshanzu 11
Troupe:
Cosmos
Year:
2019
Performances:
Takarazuka Grand Theater, 4/19 - 5/27; Tokyo Takarazuka Theater, 6/14 - 7/21
Shinjin Kouen Performances:
Takarazuka Grand Theater, 05/07; Tokyo Takarazuka Theater, 6/27
Based On:
The 2001 film
Ocean's 11
Author/Director:
Koike Shuuichirou
Composer:
Oota Takeshi
,
Aoki Tomoko
Choreographer:
Miori Yumino
,
Wakao Risa
,
Sakuragi Ryousuke
,
AYAKO
,
SHUN
,
Suzukake Miyuki
Conductor (Takarazuka):
Sasada Aiichirou
Conductor (Tokyo):
Shiota Akihiro
Shinjin Kouen Director:
Takeda Yuuichirou
Available on DVD:
Yes (
release date 07/11/19
)
Available on Blu-Ray:
Yes (
release date 07/11/19
)
DVD Scene/Music Cuts:
No
Other Cast:
Ayase Akina
,
Sakurane Rei
,
Aisaki Maria
,
Risaki Shigure
,
Akina Rui
,
Hanabishi Rizu
Koharuno Sayo
,
Homare Seri
,
Kazaki Shun
,
Mizune Shiho
Hanashiro Saaya
,
Yumekaze Sayaka
,
Kagayaki Yuu
,
Hiyuki Arisu
,
Ayahi Hana
,
Azusa Io
,
Fuuki Ruru
,
Mai Kokoro
.
Manairo Meari
†,
Hiiro Fuuka
WARNING!! MAY CONTAIN SPOILERS!!
Danny Ocean, a master swindler, is serving time, but on this day he is approved to be released on parole. On the same day, his wife's lawyer pays him a visit, divorce papers in hand. His wife Tess has been selected to star in a show at a hotel to be built by the Las Vegas magnate Terry Benedict.
Danny is told that she feels it would be better to be separated from a man with a criminal history until she makes her debut. Worse for Danny, Tess is rumored to be Benedict's latest lover. Danny, who still loves Tess, has been enduring blow after blow, and so he concocts an ambitious scheme. After his release, he heads off to a certain destination, a town that will alter his destiny: Las Vegas.
Benedict, meanwhile, has been hiding his true self from Tess. He is rotten to the core, and he has taken control of Las Vegas through cruel and unjust means. Danny meets up with his old friend Rusty Ryan in a Las Vegas nightclub to reveal his plan with the idea of getting one over on Benedict. This involves blowing the safe at the Paradiso Hotel, which Benedict manages. The safe holds the proceeds of all of the casinos run by Benedict. In a single night, the amount can hit 150 million dollars. But the security will be a major problem, and so the cooperation of experts from a variety of fields will be essential. Danny and Rusty work quickly to bring together some of their old gang.
Reuben Tishkoff, who ran a casino that was ruined by Benedict; Frank Catton, a card dealer who was run out of Las Vegas after his grifting was exposed; Livingston Dell, an unrivaled hacker; brothers Virgil and Turk Malloy, who create virtual worlds by manipulating video images; the magician Basher Tarr; Yen the juggler; Saul Bloom, an ex-con artist of extraordinary talent. All these pros of the trade have been enticed by Danny's plan. There is also Linus Caldwell, who feels the heavy burden from the reputation of his father, a pickpocket of legendary proportions. Linus sets his mind on taking part in the plan with the aim of outdoing his father. And this is how this group of 11 people possessing such exceptional skills has come together.
So will Danny be able to outmaneuver Benedict, the ruler of Las Vegas who will stop at nothing to achieve his aims? Will Danny win back the heart of Tess, whom he still loves? This audacious challenge, the likes of which have never been seen before, "to rob the proceeds of Las Vegas' biggest hotel" will finally go into action.
None yet.
| | | | |
| --- | --- | --- | --- |
| Poster | DVD | VHS | CD |
| None Yet | None Yet | None Yet | None Yet |