My Dear New Orleans / à Bientôt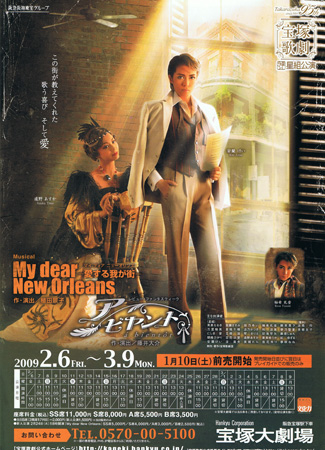 Picture Credit: Zephy
English Title:
My Dear New Orleans / à Bientôt
Japanese Title:
マイ ディア ニューオリンズ / ア ビヤント
Romanized Title:
Mai Dia Nyuuorinzu / A Biyanto
Troupe:
Star
Year:
2009
Performances:
Takarazuka Grand Theater, 2/6 - 3/9; Tokyo Takarazuka Theater, 3/27 - 4/26
Shinjin Kouen Performances:
Takarazuka Grand Theater, 2/24; Tokyo Theater, 4/9
My Dear New Orleans:
Based On:
n/a
Author/Director:
Ueda Keiko
Composer:
Kai Masato
Choreographer:
Masaki Rino
,
Miori Yumino
,
Tamano Kazunori
Conductor (Takarazuka):
Okada Yoshiki
Conductor (Tokyo):
Shinjin Kouen Director:
Ueda Kumiko
A Bientôt:
Author/Director:
Fujii Daisuke
Composer:
Aoki Tomoko
,
Teshima Kyouko
Choreographer:
Hayama Kiyomi
,
Miori Yumino
,
Wakao Risa
,
Hirasawa Satoshi
Conductor (Takarazuka):
Terashima Masao
Conductor (Tokyo):
Available on DVD:
Yes (
release date 05/20/09
)
DVD Scene/Music Cut:
Yes
The following numbers from à Bientôt had the sound or vocals removed. (*)ed scenes were removed and put into a special chapter on the extras menu.
Part 4 scene 10 "Mon Mec a Moi" (singer: Toono Asuka) - vocals cut
Interlude scene 12 "Lucien et Les Siens" (singer: Suzumi Shio, Shiran Masumi, Asamine Hikari, etc.) - vocals cut (*)
Part 5 scene 13A "Pigalle" (singer: Tatsuki You) - sound replaced (*)
Part 5 scene 13B "Frou Frou" (singer: Yumesaki Nene - parts of the singing removed
Part 5 scene 13E "Padam Padam" (singer: Mahiro Shun, etc.) - vocals cut (*)
Part 5 scene 13F "J Ai Deux Amours" (singer: Toono Asuka) - vocals cut (*)
Part 5 scene 14 "Les Amants de Paris" (singer: Aran Kei) - vocals cut (*)
Part 5 scene 16 "Lucien et Les Siens" (singer: Toono Asuka) - vocals cut (*)
Part 7 scene 21 "Et Maintenant" (singer: Yuzuki Reon) - vocals cut
Role
Cast
Shinko Cast
Joy Bee (A musician in Storyville, a red-light district in New Orleans, who will succeed as a pioneer of black music)
Aran Kei
Makaze Suzuho
Louise du An (Lulu) (Anderson's mistress and the most glamorous Creole woman in New Orleans)
Toono Asuka
Aono Yuki
Leonard du An (Lenny) (Louise's younger brother, a pimp, always getting into troubles)
Yuzuki Reon
Miya Rurika
Pastor Steve (A pastor of a black church, taught music to Joy and looked after him as if he were Joy's father)
Natori Rei
Senju Haru
Sister Sarah (A nun working at Pastor Steve's church and taking care of its chorus)
Miho Keiko
Yumesaki Nene
Emma (Joy's mother, who gave birth to Joy as a bastard between a white man and brought him up with love)
Ema Naoki
Shirotae Natsu
Josephine (Louise's greedy mother, who is entrusted with Anderson's dance hall, "Elysian Hall")
Mari Yuzumi
Yuuka Riko
Jules Anderson (Monsieur Anderson) (A renowned French man, who is a czar of the underworld and known as King of Storyville)
Tatsuki You
Toa Reiya
Albert Jourdan (A music promoter, who discovers Joy's musical talent and makes Joy succeed in New York of the Jazz Age)
Suzumi Shio
Tenju Mitsuki
Buddy (Joy's best friend, a trumpeter of Joy's band "Storyville Kids")
Kazu Ryouka
Ooki Makoto
Gabe (A drummer in Joy's band "Storyville Kids", a passionate black man who deeply loves his wife and family)
Yumeno Seika
Ichijou Azusa
Nettie (Joy's former girlfriend who is still in one-sided love with him)
Yumesaki Nene
Kitori Mariya
Dr. Wilson
Nishiki Ai
Asato Mao
Flora
Asamine Hikari
Shizuki Otone
Uncle Jerry
Shiran Masumi
Naoki Jun
Bob the Pimp
Miki Chigusa
Honjou Kureha
Rita the Prostitute
Momoka Sari
Aimi Serena
Mrs. Wilson
Marino Yui
Wakanatsu Ayame
Stella the Prostitute
Suzuno Katsuki
Tamahana Yufu
Bella the Prostitute
Hoshikaze Erena
Yumeshiro Eren
Selly
Koto Marie
Minakaze Rina
Henri
Mishiro Ren
Kai Hayato
Gambling Man
Amagiri Mayo
Oliver
Ayami Haya
Kisaragi Ren
Rose the Prostitute
Kawai Mizuho
Miharu Ayaka
Mayor of New Orleans (Mr. Behrman)
Amao Keika
Otoha Minori
Party Guest
Kazuki Shin
Bessie
Otohana Yuri
Yumeki Anru
Radio Station Director
Tsurumi Mayuu
Seki Yurito
Shop Woman
Junka Marii
Hishiro Yua
Martin
Mahiro Shun
Natsuki Rei
Ryan
Mizuki Ryou
Sazanami Reira
Cecilia
Hisaki Seara
Kaga Ririka
Eric Johnson
Kurenai Yuzuru
Aomi Rima
Redhead Will the Newsboy
Aomi Rima
Mao Yuuki
Stanley
Ichijou Azusa
Shiotsuki Shuu
Pete
Miya Rurika
Serika Toa
Big Nose Joe
Kisaragi Ren
Hishiro Yua
May
Aono Yuki
Otoha Minori
Party Guest
Minakaze Rina
Policeman
Naoki Jun
Policeman
Kai Hayato
Joy (as a child)
Tenju Mitsuki
Natsuki Rei
Louise (as a child)
Kitori Mariya
Saotome Wakaba
Little Sam
Yuuka Riko
Marina Mayu
Nico
Ooki Makoto
Shingetsu Saku
Pauline
Otoha Minori
Saotome Wakaba
Joe Coleman
Makaze Suzuho
Mao Yuuki
Eileen Hart*
Mizuse Chiaki
Buddy (as a child)
Natsuki Rei
Boy
Sazanami Reira
Marie
Kaga Ririka
Shirayuri Hime
* Because of
Mizuse Chiaki
's injury, the role of Eileen Heart will be taken over by Cecilia in the show.
Others:
Umezono Sachi
,
Hanami Yuuka
,
Hanasono Miyuu
,
Shirotae Natsu
,
Shiotsuki Shuu
,
Asato Mao
,
Senju Haru
,
Shingetsu Saku
,
Aimi Serena
,
Masabuki Minori
,
Kotoshiro Manaka
,
Miharu Ayaka
,
Hishiro Yua
,
Shizuki Otone
,
Seki Yurito
,
Kizaki Reo
,
Honjou Kureha
,
Shirayuri Hime
,
Wakanatsu Ayame
,
Yumeki Anru
,
Serika Toa
,
Toa Reiya
,
Sorano Miyu
,
Yumeshiro Eren
,
Tamahana Yufu
,
Oushina Yuu
,
Sayaka Shion
,
Marina Mayu
,
Saotome Wakaba
,
Mao Yuuki
,
Shouma June
,
Hyuuga Ran
,
Hinatano Karin
WARNING!! MAY CONTAIN SPOILERS!!
My Dear New Orleans
Set in America at the beginning of the 20th century in the southern harbor town of New Orleans. The city's name is left over from it's time as a French colony, the Creole culture of those of mixed black and white race, Spanish, Caribbean; a town of mixed cultures from many peoples; a town which gives off it's own unique fragrance. In this city music overflows everywhere, and the people's lives are entwined with the music.
Joy Bee comes back to his hometown, New Orleans, as a successful Jazz musician. The muggy wind from the Mississippi River reminds him a memory from ten years ago...
He is a Creole brought up in a back-street district where he found out music was his life. One day, he met his femme fatale, Lulu. They fell in love each other. This love gave him an everlasting love song, "Sweet Black Bird".
---
à Bientôt
As soon as the Spirit of Time turns on the lights in a half-wrecked revue theater on a street in Paris, a dream world appears. Frantic clapping and cheers resound while gorgeous stars stand in a flood of dazzling light. The curtain of the golden stage now rises for only tonight.
Prologue : Amuse-Gueule (Welcome)
Montre -
Yuzuki Reon
Chérir -
Ema Naoki
Le Roi Rêve -
Aran Kei
Etoile Amour -
Toono Asuka
Montre (Esprit Homme S) -
Yuzuki Reon
Esprit Chant -
Miho Keiko
Esprit Homme A -
Tatsuki You
,
Suzumi Shio
Esprit Femme A -
Koto Marie
,
Yumesaki Nene
Chérir -
Ema Naoki
Lumière -
Asamine Hikari
Froid -
Kazu Ryouka
Fleur -
Yumesaki Nene
Montre -
Yuzuki Reon
Hombre A -
Ayami Haya
Alain -
Aran Kei
Gisabelle -
Toono Asuka
MaÎtre -
Tatsuki You
Garde -
Kurenai Yuzuru
Papillon A -
Suzuno Katsuki
Papillon (singer) -
Miho Keiko
,
Otohana Yuri
Violet -
Suzumi Shio
Belle Amante / Homme de la nuit 1 -
Aran Kei
Mademoiselle Fraise / Cancan Femme S -
Toono Asuka
Myrtille Homme S / Homme de la nuit 2 -
Yuzuki Reon
Orange Homme S -
Tatsuki You
Banane Homme S -
Suzumi Shio
Pomme Homme S -
Kazu Ryouka
Cerise Femme S -
Yumesaki Nene
Pomme Femme S -
Aono Yuki
Alain -
Aran Kei
Etoile Amour -
Toono Asuka
Montre -
Yuzuki Reon
Le Roi Rêve / Etoile Grande -
Aran Kei
Etoile Amour / Etoile Chantée -
Toono Asuka
Amour Homme S -
Yuzuki Reon
Amour Homme A -
Tatsuki You
,
Suzumi Shio
,
Kazu Ryouka
,
Ayami Haya
,
Yumeno Seika
,
Mahiro Shun
,
Kurenai Yuzuru
Amour Femme A -
Koto Marie
,
Yumesaki Nene
,
Aono Yuki
Sumire Style Stage GRAPH
Ekusudei's
| | | | |
| --- | --- | --- | --- |
| Poster | DVD | VHS | CD |
| None Yet | None Yet | None Yet | None Yet |