Love Blooms Out on the Murasakino / Santé!!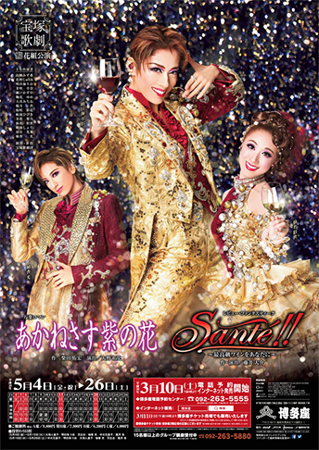 Picture Credit: coeuraubonheur | Official Chirashi
English Title:
Love Blooms Out on the Murasakino / Santé!!
Japanese Title:
あかねさす紫の花 / Santé!!
Romanized Title:
Akanesasu Murasaki no Hana / Santé!!
Troupe:
Flower
Year:
2018
Performances:
Hakataza, 05/04 - 05/26
Love Blooms Out on the Murasakino:
Based On:
Asuka Period history
Author:
Shibata Yukihiro
Director:
Oono Takuji
Director / Choreographer:
Onoe Kikunojou
Music:
Yoshida Yuuko
,
Terada Takio
,
Kawasaki Tsuneo
Choreography:
Mine Saori
Conductor:
n/a
Santé!!
Author / Director:
Fujii Daisuke
Composer:
Aoki Tomoko
,
Teshima Kyouko
Choreographer:
Hayama Kiyomi
,
Miori Yumino
,
Wakao Risa
,
ANJU
,
Kazumi-Boy
Conductor:
n/a
Available on DVD:
Yes (
release date 10/12/18
)
Available on Blu-Ray:
Yes (
release date 10/12/18
)
DVD Scene/Music Cuts:
No
Other Cast:
Takamine Jun
,
Izumi Maira
,
Kazu Reisa
,
Rinka Mone
,
Suzumina Natsuki
,
Miku Rinka
,
Naoto Akira
,
Shiki Sumire
,
Kinami Raito
†
Cast A:
5/4 - 5/15  
Cast B:
5/16 - 5/26
WARNING!! MAY CONTAIN SPOILERS!!
Love Blooms Out on the Murasakino
Asuka Period, Japan. Ooama no Miko meets Nukata no Ookimi when he goes with his older brother (Nakano Ooe no Miko) to her house. There Nakano Ooe is wooing Nukata's older sister, and so the two younger siblings meet and fall in love. Five years later, Ooama and Nukata are married, and a daughter has just been born. Ooma talks happily to Nukata about his plans with his brother to jointly rule their empire of Yamato. As Nukata listens to his naive, happy chatter, she becomes uneasy. Later, Nakano Ooe arrives and tells Nukata that she has grown and become very lovely. He has fallen in love with her, and wants her for his own. Caught between the two brothers, Nukata flees back to her father's house.
Nakano Ooe's retainer comes to fetch her, telling her not to be selfish. With her missing, rumors of estrangement between the brothers have grown and their vassals are rebelling. She returns to court. There Nakano Ooe makes it clear that he will not bend in this. He needs Nukata. Under political pressure, Ooama agrees to give up his wife, allowing his brother to make her his empress.
Meanwhile, Nukata's childhood friend has followed her to court. Although married, Amehiko continues to hold Nukata up as his perfect lady, and finds it soothing to be in sight of the palace where she lives. His wife worries for him, as he is stretched thin by his consuming passion. His brother comes to fetch him home, and he flees once more to Arima.
In Arima, the empress Saimei goes to the hot springs to relax. She has many memories there, including the birth of her first son, Nakano Ooe. She speaks with Nukata, wondering if perhaps her son has grown too great for his own good. Nakano Ooe has followed them to Arima, intending to carry out his own plans by killing the young Arima no Miko, whom rumor says is planning a rebellion. He tells Nukata of his plans, and she begs for the young boy's life, but Nakano Ooe stands firm, pulling her to him. Amehiko walks by then and discovers them. He is crushed to see that the rumors are true, and that Nukata is with Nakano Ooe. Now devastated, he runs from her and back to his home, where he collapses in the arms of his wife.
In court, a drunken Ooama arrives late to Nakano Ooe's birthday celebrations. He will give his brother a dance, he says. He refuses to give up his spear, dancing with greater and greater passion while Nakano Ooe's retainers keep a close eye on him. He grabs Nukata and tries to leave, but Nakano Ooe pulls his sword to stop him. The two brothers fight, but in the end, Ooama cannot kill his brother. And still Nakano Ooe refuses to give up Nukata....
---
Santé!!
"Santé" is the French word meaning "cheers!". Wine is beloved around the world. Just as you enjoy wine, we hope you will be intoxicated by this extremely unique, beautiful, and extravagant Takarazuka revue show. The elegant, refined image that wine brings to mind is practically the same as that of the Takarazuka Revue itself. Set in the city of Paris, full of love, dreams, and romance, the theme of this show is "the various dreams one has while drinking wine". This revue has a rich aroma and a mature atmosphere, and will display Asumi Rio's charms in a new way.
Love Blooms Out on the Murasakino has been performed 7 times: in 1976 (Flower), 1977 (Snow), 1995 (Snow), 2002 (Flower), twice by Moon Troupe in 2006, and this production.
Santé!! was first performed by Flower Troupe in 2017.
None yet.
| | | | |
| --- | --- | --- | --- |
| Poster | DVD | VHS | CD |
| None Yet | None Yet | None Yet | None Yet |