High School Kids / Tanuki Goten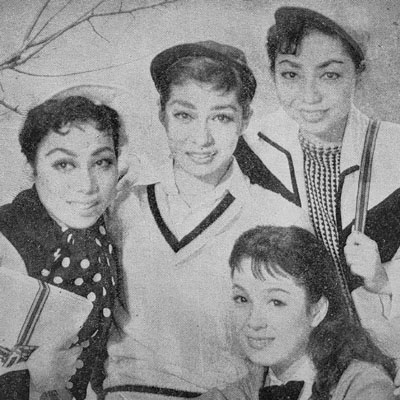 Picture Credit: Show Program
English Title:
High School Kids / Tanuki Goten
Japanese Title:
高校三年生 / 花 の 狸 御殿
Romanized Title:
Koukou Sannensei / Hana no Tanuki Goten
Troupe:
Flower
Year:
1958
Performances:
Tokyo Takarazuka Theater, 01/01 - 01/29
Shinjin Kouen Performances:
n/a
High School Kids:
Based On:
Author/Director:
Utsumi Shigenori
Composer:
Irie Kaoru
,
Nakamoto Kiyozumi
,
Kawasaki Tsuneo
Choreographer:
Watanabe Takeo
Conductor (Takarazuka):
n/a
Conductor (Tokyo):
Oono Tadaosa
Shinjin Kouen Director:
n/a
Tanuki Goten:
Based On:
Author/Director:
Takagi Shirou
Composer:
Nakamoto Kiyozumi
,
Oka Masao
,
Kawasaki Tsuneo
Choreographer:
Watanabe Takeo
,
Kawakami Gorou
,
Oka Masami
,
George Saida
Conductor (Takarazuka):
n/a
Conductor (Tokyo):
Nakamoto Kiyozumi
Shinjin Kouen Director:
n/a
High School Kids

Role
Cast
Tommy, high school senior
Fujisato Miho
Peggie, high school senior
Chino Kakuko
Joe, high school senior
Uchinoe Noboru
Mr. Chilton, teacher
Ooji Michio
Louise, Tommy's Mother
Tamano Hikaru
Principal Coleman
Miyama Shigure
Ladd Carson, Peggie's Father
Midori Yachiyo
Ms. Lennie, teacher
Wakazakura Kaoru
Ms. Evelyn, teacher
Megumi Yutaka
Mr. Brooks, teacher
Koyanagi Hizuru
Mr. Dexter, teacher
Wakashio Shibuki[1]
Miranda Carson, Peggie's Mother
Sakae Miyuki
Ms. Clara, teacher
Mizuho Youko
Olive
Kumoji Tazunu
Willy, Peggie's brother
Nanjou Terumi
Emily, Willy's girlfriend
Asanagi Mifune
Bessie, Peggie's sister
Ayukawa Mitsuru
Kathie, Peggie's sister
Ayukawa Michiyo
Cab, high school senior
Matsushima Minako
Philip, high school senior
Yoshizuki Akemi
Jimmy, high school senior
Miyakoji Noboru
Billy, high school senior
Ikebe Akira
Pat, high school senior
Konoe Mari
Teav, high school senior
Hatagumo Akemi
Sara, high school senior
Takaoka Nachiko
Kate, high school senior
Asuka Taeko
Julia, high school senior
Akatsuki Hidemi
Alice, high school senior
Wakao Ayuko
Hannah, high school senior
Asukai Kaori

Tanuki Goten

Role
Cast
Tanukichiro, The young lord of the Mangetsu Castle. He is engaged to the princess Kinuta
Uchibuki Misa
Kinuta-hime, The princess of the Nadeshiko Castle
Kuroki Hikaru
Fujimiya, The chief vassal of the Mangetsu Castle. He falls in love with Umekoji
Miyoshi Sakuko
Umekoji, A court lady of the Nadeshiko Castle
Ooji Michio
Fujimaro, The son of Fujimiya
Yodo Kaoru
Yamabuki, The daughter of Umekoji
Ootori Yachiyo
Keshinosuke, A retainer of Fujimaro
Akashi Teruko
Yuri, A maid servant of Yamabuki
Takaoka Nachiko
Momiji, A court lady
Wakazakura Kaoru
Kirinosuke, merchant, master of the Kiriya
Miyama Shigure
Okiri, Kirinosuke's wife
Tamano Hikaru
Kiritarou, The son of the merchant Kirinosuke
Maho Shibuki
Tsutauemon, merchant, master of the Tsutaya
Midori Yachiyo
Otsuta, Tsutauemon's wife
Takada Kazumi
Kaede, The daughter of Tsutauemon. She and Kiritarou are in love with each other, but their parents are cat and dog to each other
Asuka Taeko
Sotetsu Dayuu, A strolling artiste, leader of a road company
Nanjou Terumi
Harugikumaru, A strolling artiste of a road company. But afterwards, he is found to be Tanuchiyomaru, the brother of the lord of the palace. He has been missing from the palace for some years.
Hoshizora Hikaru
Ayame, The daughter of the leader of the company. She loves Harugikumaru.
Tsukushi Mari
Ginnannojirou, A strolling artiste
Shigure Otowa
Suisen, A strolling artiste
Mizuho Youko
Hasuemon, A strolling artiste
Miyakoji Noboru
Other Cast:
Hanazora Rie
,
Izumi Sayoko
,
Kinugasa Midori
,
Kiyomi Shouko
,
Oomachi Keiko
,
Asadori Chiho
,
Hanano Chiharu
,
Tamaki Yoshiko
,
Chihiro Seiko
,
Awashima Chihiro
,
Yamaji Chigusa
,
Wakaayu Noboru
,
Ookouchi Takako
,
Hodaka Chinami
,
Amatsugawa Ryuuko
,
Tamai Akiyo
,
Chigusa Chiyo
,
Murasame Chizuru
,
Shima Yoshimi
,
Akitsu Tamame
Snow Troupe:
Kisaragi Miwako
,
Katsura Rieko
,
Misono Keiko
,
Eri Futaba
,
Shimaura Maho
,
Asamiya Chigusa
,
Chinami Jun
Ken-2:
Taira Michiyo
,
Fujimori Setsuko
,
Satomi Chihiro
,
Hoshi Hisami
,
Shiratori Keiko
,
Mitaki Ryouko
,
Mitaka Hideko
,
Kaji Masami
,
Kaji Hidemi
ken-1:
Kyou Kazume
,
Hisakata Haruyo
,
Akiji Hiromi
,
Kamiji Chizuru
,
Miki Ryuuko
,
Matsunami Shibuki
,
Niizuki Mitsuru
,
Midorikawa Sumiko
,
Takamine Junko
,
Akebono Youko
,
Satsuki Keiko
,
Ori Chieko
,
Takatori Makiko
,
Hatomi Hikaru
WARNING!! MAY CONTAIN SPOILERS!!
(Original summary from show program)
Musical Play in 14 Scenes
HIGH SCHOOL KIDS
Tommy is the son of a poor family and a student of high school third year class, yet his seriousness made him chairman of the class meeting. He is an idol of the girl students and respected as their ideal man.
Having been jealous of his reputation, Joe, one of his classmates, plans to give some Jack-in-the-boxes to their teacher, Mr. Chilton and puts the responsibility of their prank upon Tommy.
Tommy is subjected to reprimand as Joe has expected, but his girl classmates including Peggie, a millionaire's daughter have compassion on him. Then Joe schemes to put him to shame and waits for the opportunity.
When Peggie goes to see Tommy to a drive-in where he works in his spare hours, she finds Sara, a classmate of hers, talking very intimately with him. She is agitated. Understanding whole story, Joe snatches the opportunity and persuades her with his sweet words to go for a drive. When they come up on a hill, he kisses her by force.
First kiss
--
There broken-hearted Peggie weeps night away with vexation.
As soon as the day breaks, she is found out by the searching party organized by her parents, teachers and classmates. They misunderstand Tommy as the seducer because of her slip of the tongue when they are told her story.
Tommy is dismissed from his position, and Joe, even the real seducer becomes the chairman.
Few days after, a Baseball Match is held between the new and old chairman's party. In the midst of the game, a sad news is brought to Tommy saying that his father who has been sick in be falls into a critical condition.
When he is told that his father has to undergo an operation at the hospital, he is at a loss what to do for its expense.
Knowing his circumstances, Sara, attracted by Tommy, attempts to steal some money from Peggie's home in order to win his favour. She, the safe-cracker, puts the key into a boy's pocket when she runs away. So the boy, Cab by name, falls into suspicion.
Naturally, Cab persists in claiming his innocence, but the New Chairman Joe tries to lynch him on the railroad.
Hearing of this information, Tommy runs to the place and stops the rushing train. Cab is saved, but Tommy holds himself responsible for interruption of running train. He is referred to the disciplinary committee, and expelled from school.
Leaving from school with his broken heart he sees Peggie waiting for him. She tells him her true heart.
Being much surprised to the result, Sara confesses that she committed safe-braking, and Joe, on the other hand, apologizes to the school-master for his wrong ---- Tommy is freed from his accusation and readmitted into school.
There can be seen everybody singing the praises of their youth.
Grand Musical in 20 Scenes
TANUKI-GOTEN
(The Badger's Palace)
This is a story in a badger's country.
On the festival day of this country, it is the custom with people to celebrate their weddings. This year, the young lord Tanukichiro of the Mangetsu Castle and the princess Kinuta of Nadeshiko Castle are to be married. The show goes on from the eve of the festival.
Six couples, Tanukichiro and Kinuta, Fujimiya and Umekoji, Fujimaro and Yamabuki, Keshinosuke and Yuri, Kiritaro and Kaede, Harugikumaru and Ayame, get so mixed up that the palace falls into utter confusion…
Any other interesting or important stuff.
None yet.
| | | | |
| --- | --- | --- | --- |
| Poster | DVD | VHS | CD |
| None Yet | None Yet | None Yet | None Yet |