Gone with the Wind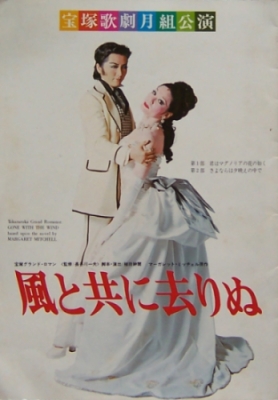 Picture Credit: jenebi, Show Program
English Title:
Gone with the Wind
Japanese Title:
風と共に去りぬ
Romanized Title:
Kaze to Tomo ni Sarinu
Troupe:
Moon
Year:
1977
Performances:
Grand Theater, 3/25 - 5/10; Tokyo Theater, 7/2 - 7/31
Shinjin Kouen Performances:
Grand Theater, 4/15 (Act I) & 4/26 (Act II); Tokyo Theater, 7/17 (Act I) & 7/24 (Act II)
Based On:
Gone with the Wind
, by Margaret Mitchell
Author/Director:
Ueda Shinji
Composer:
Terada Takio
,
Irie Kaoru
,
Kawasaki Tsuneo
,
Tokura Shunichi
Choreographer:
Kita Hiroshi
&
Oka Masami
Conductor (Takarazuka):
Nomura Youji
(Act I),
Mizoguchi Takashi
(Act II)
Conductor (Tokyo):
Shinjin Kouen Director:
Available on DVD:
No
Other Cast:
Hanakouji Jun
,
Ai Erina
,
Ariake Jun
,
Jou Haruki
,
Kuni Chihiro
,
Ema Chiaki
,
Yuubi Ai
,
Saori Mitsuyo
,
Narumi Yuki
,
Minami Mariyo
,
Mina Yukiho
,
Kazama Iriya
,
Iku Katsumi
,
Dan Natsuki
,
Ura Matsuho
,
Sha Miyo
,
Wakou Asuka
,
Nobara Akemi
,
Yamazato Shiori
,
Ougi Chika
,
Ouzora Maki
,
Hinami Reika
,
Nozomi Yuuko
,
Matsuka Michiru
,
Hinotori Mina
,
Asa Hikari
,
Ookawa Reo
,
Mayu Natsumi
,
Miyo Kaori
,
Saijou Anna
WARNING!! MAY CONTAIN SPOILERS!!
(from the original show program)
EXPLANATION
This drama is based on the world-famous masterpiece
Gone With the Wind
. This is an extremely long novel, but as we only have two and a half hours, we have decided to perform an excerpt from the story, starting from the point where Scarlett, recently widowed because of her husband's death in the war, arrives in Atlanta. The focus is on the love between Scarlett and Rhett Butler, and the ups and downs of their stormy relationship.
There are two actresses taking the part of Scarlett, each portraying the two vastly different sides of Scarlett's personality. This is the first time we have tried this directing technique.
Gone With the Wind
, written by Margaret Mitchell, was first published in June, 1936. It was awarded a Pulizer Prize in the same year, and instantly made the best-seller lists. It was made into a film by M.G.M, produced by David O. Selznick, and Kazuo Kikuta produced it on stage in Japan, under the auspices of Toho Co., Ltd. Both productions were smash hits.
SYNOPSIS
It is April, 1861, and the Civil War has begun. Scarlett O'Hara, the daughter of a Southern farmer who owns a large plantation called Tara, wants to marry Ashley Wilkes, the man she loves, but he is in love with another, Melanie Hamilton. Scarlett marries a man she does not love, Charles Hamilton, on the rebound. Charles dies of a sickness he contracted during the war and leaves Scarlett a young widow.
Upon his death, Scarlett comes to Atlanta to live with her aunt Pittypat and Melanie. This is where our story begins.
PART I
In is May, 1862. Atlanta is a lively, bustling city; it is the railroad center of the South and the trains carrying ammunition materials, food, etc. all come through Atlanta.
One day a charity bazaar is held in order to raise money to build an army hospital. Dr. Meade thinks up an effective method of raising funds: the men must bid for their dancing partners as if it were an auction. So the gentlemen put up sums of $30, $50, etc. for their partners. But Rhett Butler offers the incredibly high price of $150 for Scarlett, scandalous because she is still in mourning. This man, Butler, has amassed a large fortune by running cotton, sugar, tea and uniform material through the Yankee blockade and by getting out certain things that the South wished to export, at a vast profit to himself, thereby earning the violent dislike of the people of Atlanta, who consider him a shameless scoundrel.
Scarlett's beloved Ashley comes home on leave for Christmas. Though he is now married to Melanie, Scarlett cannot get him out of her heart, and unable to control her passion for him, she tells him her feelings while she presents him with a sash she has made for his uniform. Ashley bids Scarlett to take care of the sickly Melanie while he is gone, and then returns to the front. The war rages more fiercely, and as a result, a large number of the wounded are sent back to Atlanta from the front.
Scarlett and Melanie are working at the army hospital as volunteer nurses, taking care of the wounded. But the work of tending the wounded every day from morning till night is so hard that even Scarlett gets exhausted.
Rhett Butler has long been fascinated by Scarlett's lively personality and complete lack of concern about what others think of her. Occasionally Rhett sees Scarlett and does impulsive things like giving her beautiful hats to win her favour. On the other hand, he sometimes makes her angry by teasing her with rude remarks, such as, "I am complimenting your intelligence by asking you to be my mistress without having first seduced you."
Gradually, inexorably, the Confederates are beaten back and the enemy invades the outskirts of Atlanta. Scarlett asks Rhett to provide a carriage for herself and Melanie. In this carriage, they want to escape the flames of Atlanta, and return to Tara. Halfway to their destination, Rhett bids Scarlett goodbye and says, "I am going, dear girl, with army." And he turns back alone to Atlanta.
The South is totally defeated and demolished. When Scarlett comes home to find Tara plundered and laid waste, her mother dead, she is heartbroken. But then she meets Mammy, the old black slave woman who brought her up, and Mammy comforts her by saying she will always have Tara. So Scarlett makes up her mind and says, "I've still got this. Yes, I've still got this."
PART II
Scarlett has now married Rhett, and they build a new house in Atlanta, where they give a large reception party. However, the Southerners cannot stand associating with the Yankee guests, so they get up and leave. Also, some of the guests are decidedly cold in their attitude towards Butler because of his nefarious conduct during the war.
Scarlett works hard and makes a lot of money, putting Ashley in charge of the mill, not only to create opportunities where they might be alone, but mostly to make more money and to give Ashley a job. Unfortunately the story that they are discovered embracing each other is spread all over the town.
Rhett, who is furious with Scarlett for her behavior, tries to force her up to the bedroom. But in the struggle Scarlett misses her footing, trips and falls down the stairs. The person most anxious about the critically wounded Scarlett is… Rhett. He gets down on his knees to Melanie and confesses his undying love for Scarlett.
Melanie has a miscarriage and becomes critically ill; Rhett loses his last confidant. Melanie realizing that her last hour has come, asks Scarlett to look after Ashley, and then tells her, "Captain Butler be kind to him he loves you so." These are Melanie's last words.
Melanie's words get right to Scarlett's heart, and she suddenly realizes that her love for Ashley has only been illusion and that it is Rhett whom she really loves.
She rushes home as fast as she can, and apologizes to Rhett for her foolishness. But Rhett refuses to listen to her, and, believing that she could never change, leaves her and goes on his travels alone.
None yet.
| | | | |
| --- | --- | --- | --- |
| Poster | DVD | VHS | CD |
| None Yet | None Yet | None Yet | None Yet |