Embraced by the Seas of Calista / Takarazuka Fantasia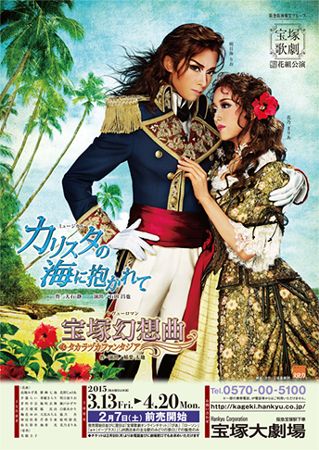 Picture Credit: coeuraubonheur | Official Chirashi
English Title:
Embraced by the Seas of Calista / Takarazuka Fantasia
Japanese Title:
カリスタの海に抱かれて / 宝塚幻想曲(タカラヅカ ファンタジア)
Romanized Title:
Karisuta no Umi ni Dakarete / Takarazuka Fantajia
Troupe:
Flower
Year:
2015
Performances:
Takarazuka Grand Theater, 03/13 - 04/20; Tokyo Takarazuka Theater, 05/15 - 06/14
Shinjin Kouen Performances:
Takarazuka Grand Theater, 03/31; Tokyo Takarazuka Theater, 05/28
Embraced by the Seas of Calista:
Based On:
Author:
Ooishi Shizuka
Director:
Ishida Masaya
Composer:
Teshima Kyouko
Choreographer:
Miori Yumino
Conductor (Takarazuka):
Conductor (Tokyo):
Shiota Akihiro
Shinjin Kouen Director:
Tabuchi Daisuke
Takarazuka Fantasia:
Author/Director:
Inaba Daichi
Composer:
Takahashi Kuni
,
Oota Takeshi
,
Takahashi Megumi
Choreographer:
Sha Tamae
,
Miori Yumino
,
Wakao Risa
,
KAZUMI-BOY
,
Sakuragi Ryousuke
Conductor (Takarazuka):
Conductor (Tokyo):
Shiota Akihiro
Available on DVD:
Yes (
release date 06/04/15
)
Available on Blu-Ray:
Yes (
release date 06/04/15
)
DVD Scene/Music Cuts:
No
Other Cast
:
Marika Yume
,
Kazusa Yoshiki
,
Nana Kurara
,
Saho Yukari
,
Wataru Hibiki
,
Mihana Rino
,
Maizuki Nagisa
,
Kaga Ririka
,
Haryuu Mitsuki
,
Niina Kaho
,
Yumehana Ran
,
Saebana Riona
,
Sachika Seira
,
Hina Ririka
,
Nanaki Kaoru
,
Hizuki Yume
,
Ouka Rina
,
Himeka Hinano
,
Rinno Shizuka
,
Haruya Yuuri
,
Izumi Maira
,
Seino Asuka
,
Hana Yuuki
,
Ichinose Kouki
,
Kazu Reisa
,
Maiki Tsubasa
WARNING!! MAY CONTAIN SPOILERS!!
Embraced by the Seas of Calista
A newly appointed garrison commander steps foot on French-governed Calista, said to be the most beautiful Island in the Mediterranean Sea. His name is Charles Villeneuve de Liberta. Though born on Calista Island, circumstances led to him being raised in France. Now, he returns after a long absence. Charles harbors grand ambitions that will determine the island's destiny.
He arrives on a special day for Calista, the "Anniversary of Aldo's Death." In an incident that goes back 28 years, a man named Aldo led an independence movement in an attempt to win independence for the islanders after they had been worked like slaves under French military rule. But fearing Aldo's devoted resistance, the military executed him. His spirit, together with his final words, have been passed down on the island: "A boy born on this day will carry on my ambition, to lead the way toward independence that was never achieved." In accordance with those words, Roberto Gorgi came into the world on the day Aldo was killed. He became leader of a group whose activities are dedicated to Calista Island's independence. And so resistance to the French military continues.
The Governor-General's Office promptly holds a banquet to celebrate Charles' appointment. In France, the system has been rocked by citizens angered over the tyranny of the aristocracy. The island's aristocracy have taken a stand against the movement, and although Charles tells them about the situation in Paris, they find it impossible to believe the monarchy could fall. Charles is baffled by how the ruling class is turning a blind eye to the danger. He heads out to the back garden of the Governor-General's house. Suddenly he is assaulted by someone. Charles, who knows the identity of the person intending to take his life, faces the darkness to state, "I am waiting tonight on the shore of Lefkos."
So that night, the figure appearing at the arranged location is that of Roberto. The boy born on the day of Aldo's death is in fact two people. Roberto is with one more person: Charles. The local people believe that Roberto and Charles, who were raised together on the island as children, are the incarnation of their hero. Indeed, the pair have felt that their personal mission is to liberate Calista. However, Charles set off for France one day after being suddenly taken away by his father. In the following 20 years, he becomes a commander in the French military, and returns once again to Calista.
With France in turmoil, Charles convinces Roberto he can win Calista's independence. This confidence was behind his application to serve as commander, he says. However, Roberto has doubts about Charles when the Commander launches a surprise attack against his own independence faction, with his friend losing complete faith in him. In this light, Roberto's fiancée, Alicia Grandie, a member of the independence faction, is the only person starting to believe that Charles, who is intent on persuasion, appears to have strong dedication to the cause.
However, Charles' encounter with Alicia will lead to a major shift in his destiny.
---
Takarazuka Fantasia
Refinement with grace. Boldness with passion. A fantasia woven together by a reborn Flower Troupe led by
Asumi Rio
. This Revue Roman unfolds with a beat that is at times classical and at times contemporary, embedded with tradition spun from the Takarazuka Revue's 100 years of history with time-honored Japanese beauty.
None yet.
| | | | |
| --- | --- | --- | --- |
| Poster | DVD | VHS | CD |
| None Yet | None Yet | None Yet | None Yet |